DIY a Door Shelf Beverage Station
Old doors are great for repurposing! This one was the perfect size to add on the dock to use as a beverage serving station. I used a little paint and a few shelves to bring it back to life.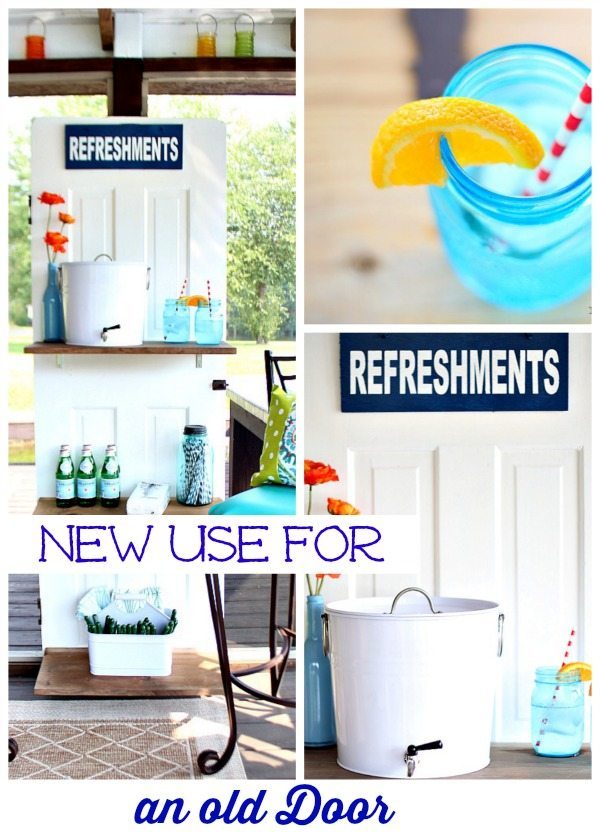 Let's get started!

Here's what you need:
Door
Modern Masters Front Door Paint – Hopeful 32oz
Purdy Brush XL 2″ Angular Trim Cub Brush
Shelving
Screws
1. Clean your door with water and vinegar. Let it dry
2. Paint the door, I used two coats of Modern Masters Front Door Paint.  It is water based and the coverage was great, it dries fast too, so you can paint your front door and close it the same day! There are 24 beautiful colors to choose from. I included an affiliate link above.
3. I love painting with Purdy brushes, they are hands down the best.  The cub handle does not fatigue my had as much as others.
4.  Your shelving size will depend on your door, I already had the 3 pieces in the garage. Lucky me 🙂
5. Use L-brackets or shelf bracket to attach your shelves. I decided on 3 shelves, you can use as many as you like.  I did not paint mine, but you could.  Mine were already aged, I'm not sure what they were in a former life.  I bought them at a yard sale.
6.  I attached my door shelf to an existing 4×4 on the dock.  If you're using yours inside, just locate studs in your wall and attach with screws.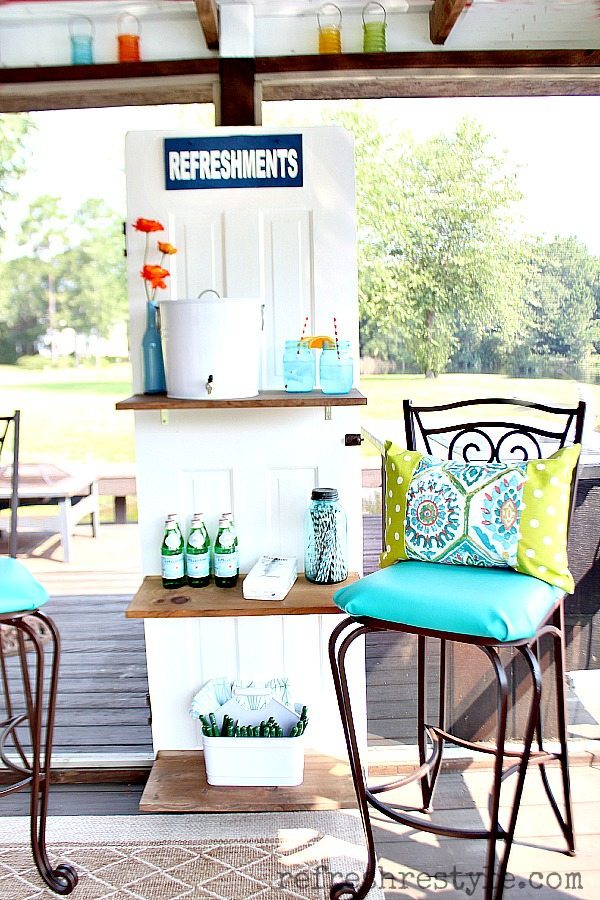 Great for serving food or drinks.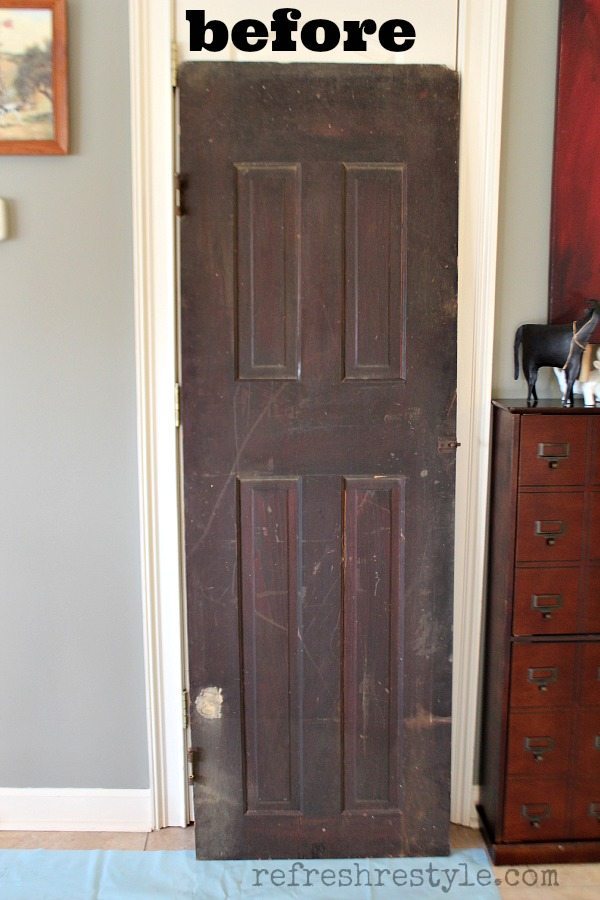 The dark, dirty brown door before.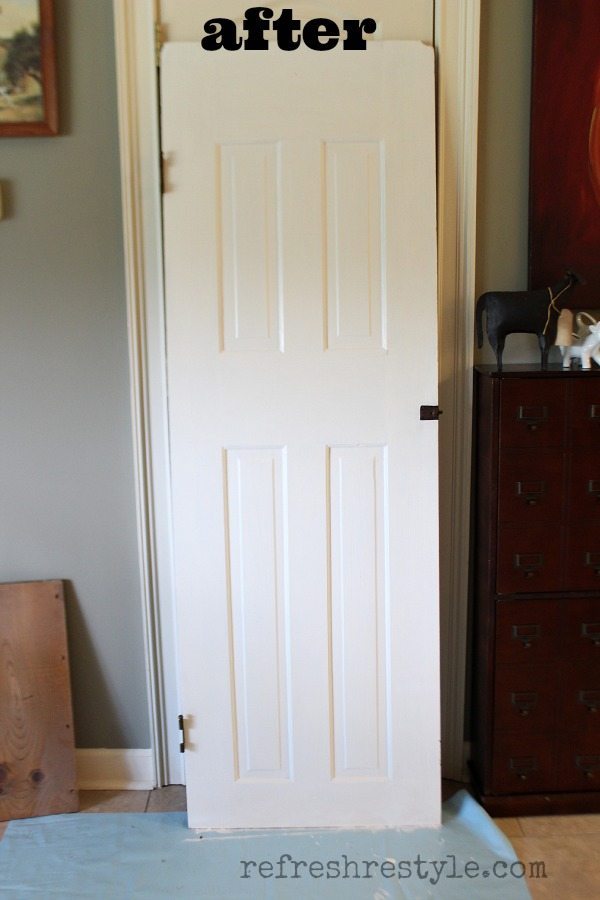 The door after 2 coats of Modern Masters Front Door Paint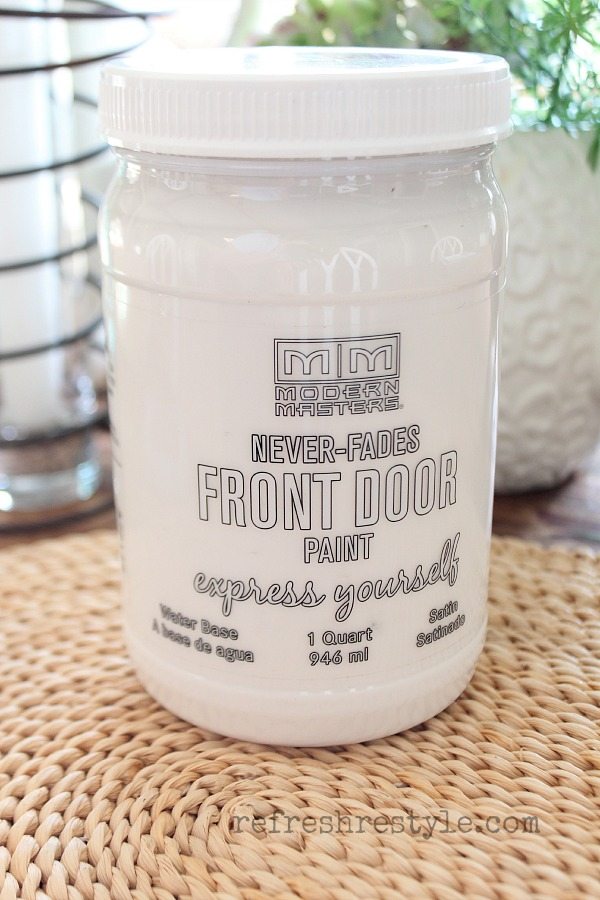 Click here to see: Modern Masters Never Fades Front Door Paint and the color I used is Hopeful.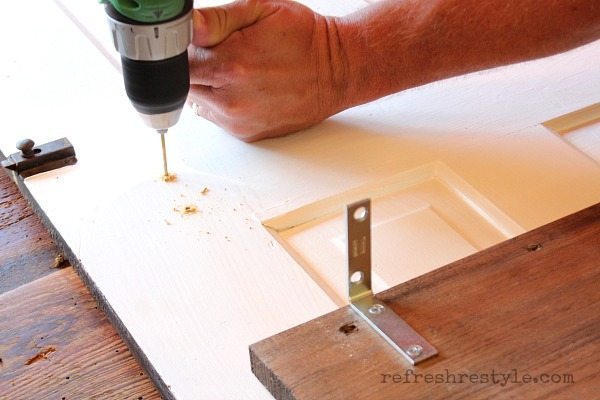 Attaching the shelves.  Pre-drill and space your shelves where-ever you like them.  I used 3 and left more space at the top but if you were doing a bookcase you could place them all the way up. We ended up using larger brackets than the ones shown.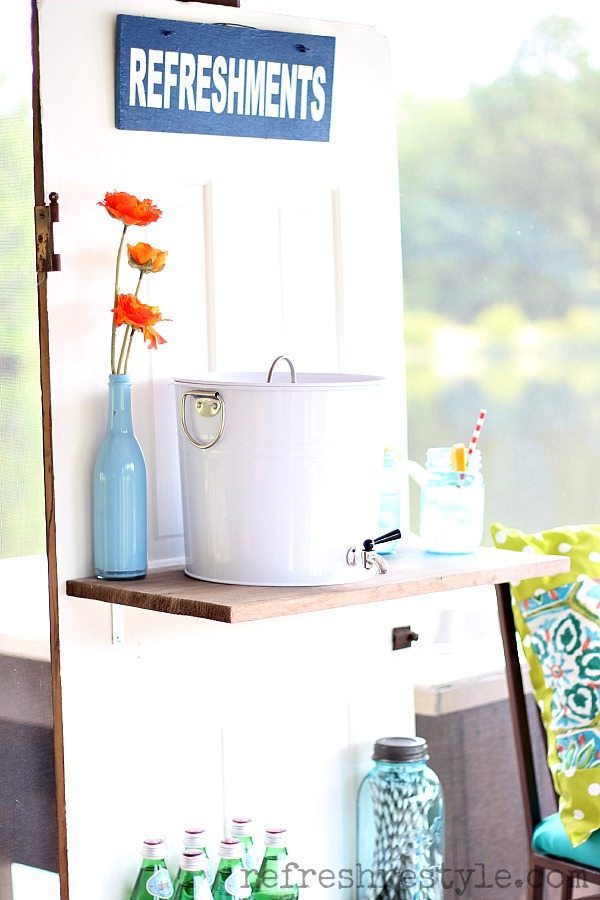 There's plenty of room for glasses and refreshments.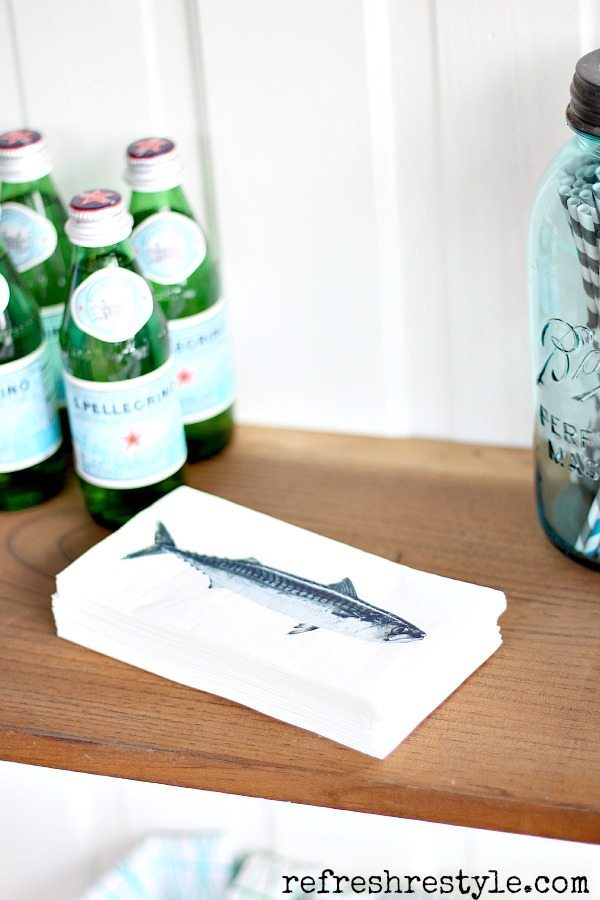 Napkins or plates.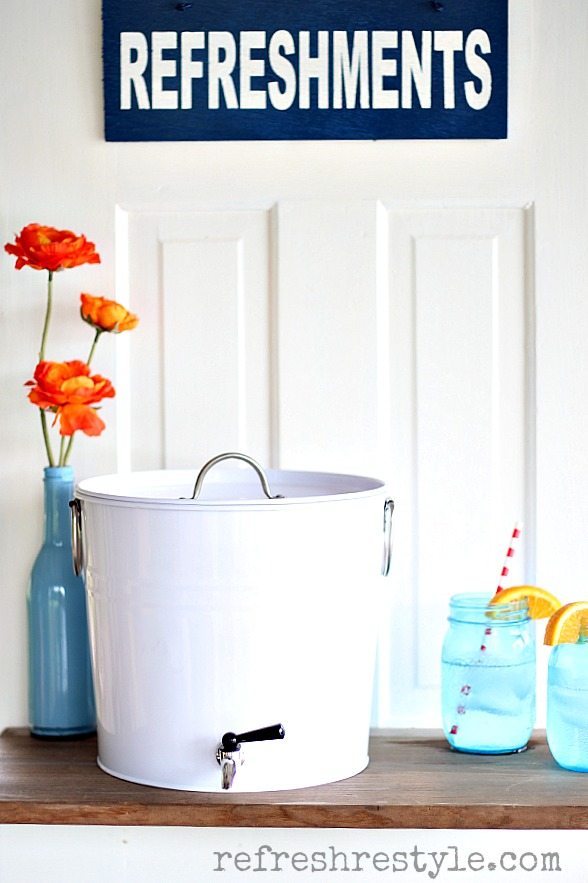 Drink containers or whatever you need.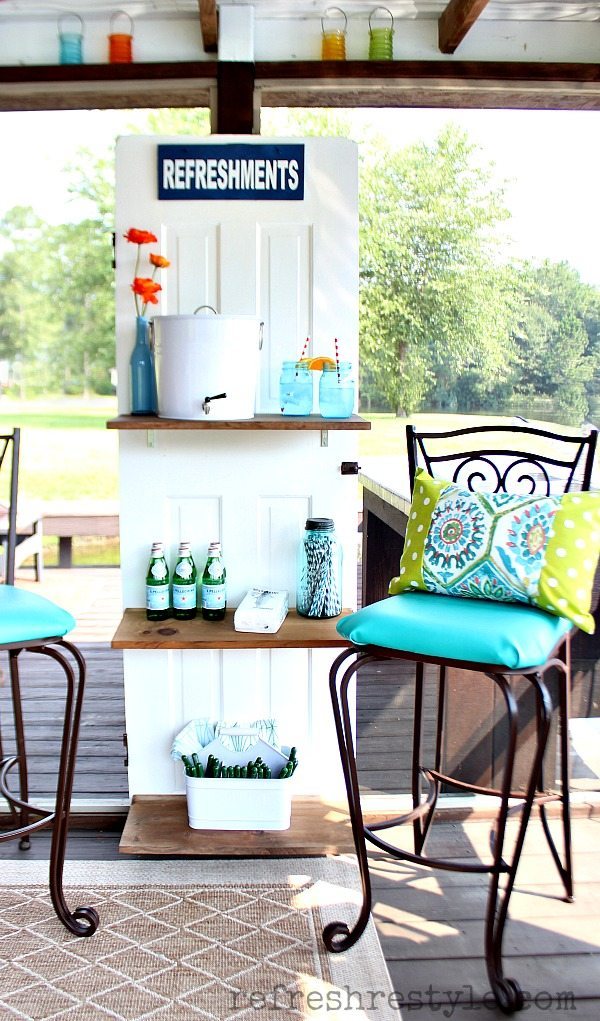 See more ideas for old doors here: Old Door Hall Trees
I loved the consistency of the Front Door paint and just want to say thanks to Modern Masters for supplying my paint.

See how I made the refreshment sign ! It's so easy, you will want to check it out 🙂
See the other side of the dock: Dock Refresh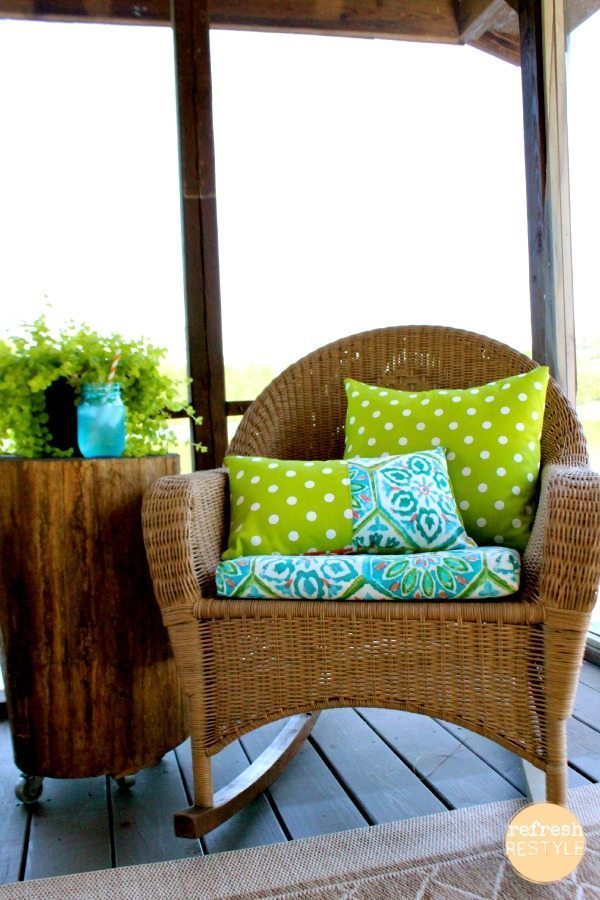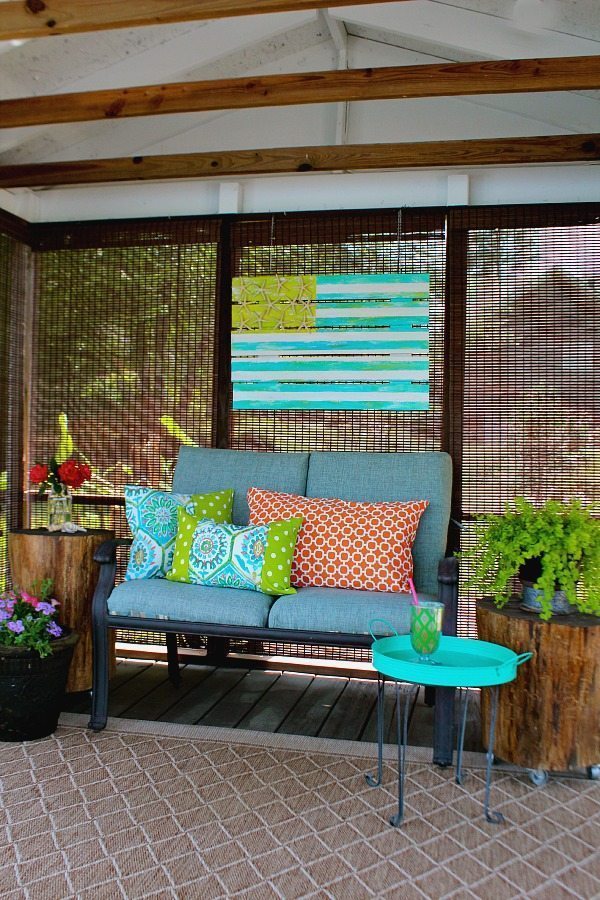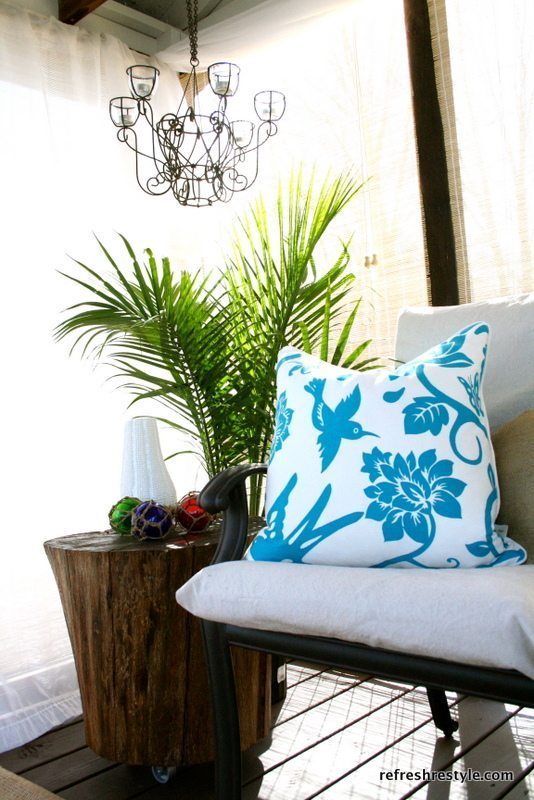 Are you inspired to get outside and repurpose something?