Loft Style Apartment Finishing Touches
A few weeks ago we went to visit Justin and Jessica, our son and daughter in law. They had just moved in to their downtown Decatur loft style apartment. As we all know moving is a huge undertaking and each new place presents it's own opportunities and by opportunities I mean, the furniture you have doesn't fit like it did in your old place. Of course, I offered my services and they accepted.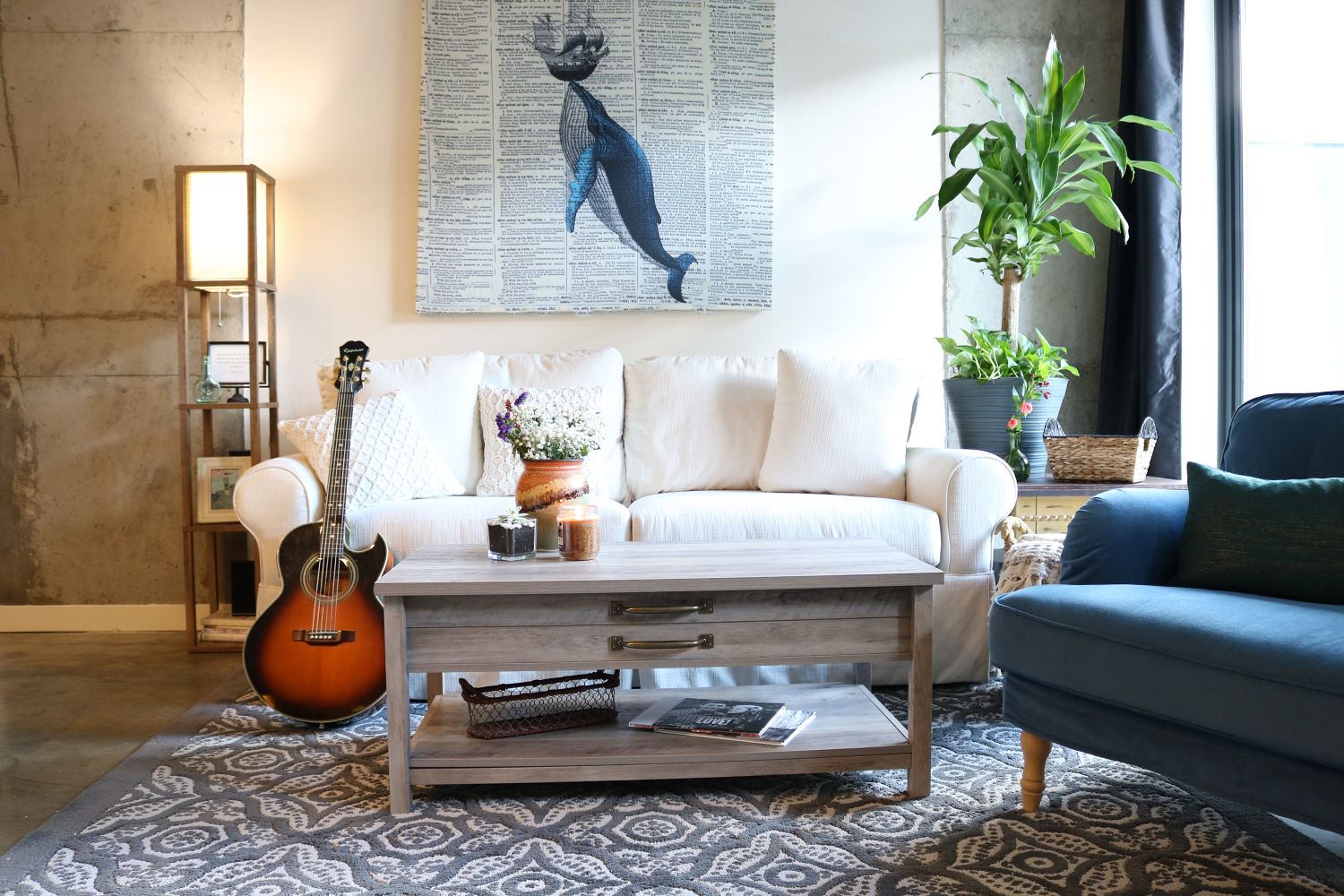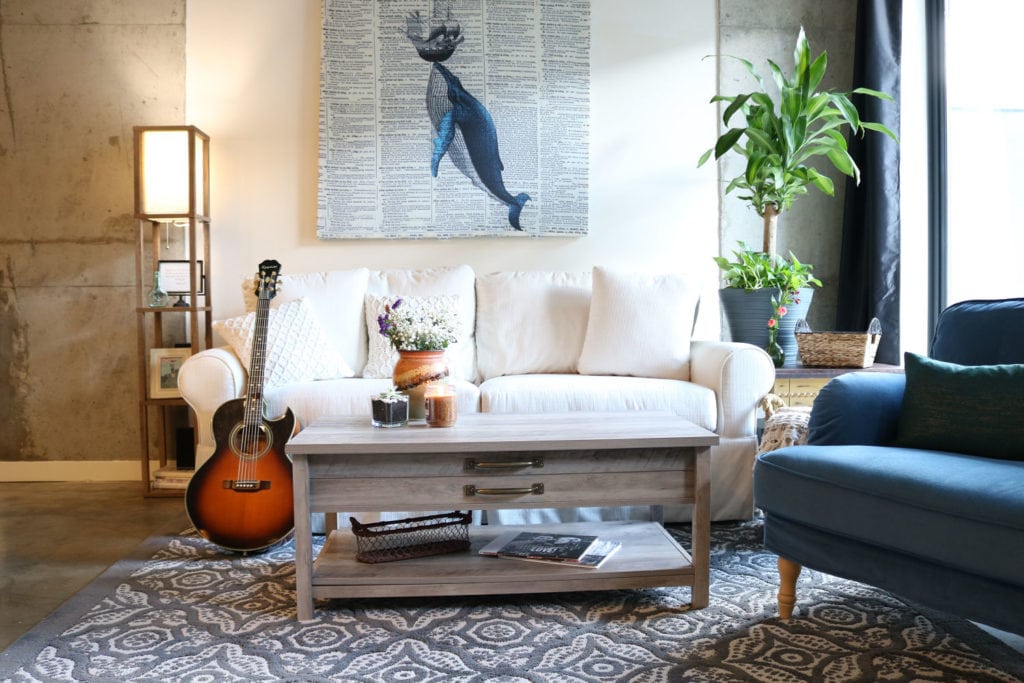 This post is sponsored by Better Homes & Gardens at Walmart and contains affiliate links, all items used are at the bottom of the post.
First of all I'd like to say that I am so jealous of their living situation. Not because they only have about 800 square feet, one bedroom, one bath and no dining room but because they can literally walk to restaurants, coffee shops, book stores, grocery shop well you get the picture. Stepping onto the sidewalk from their building feels like a Sunday stroll. Tree lined streets, the smell of delicious food from all the restaurants, it's all worth becoming a minimalist if you ask me.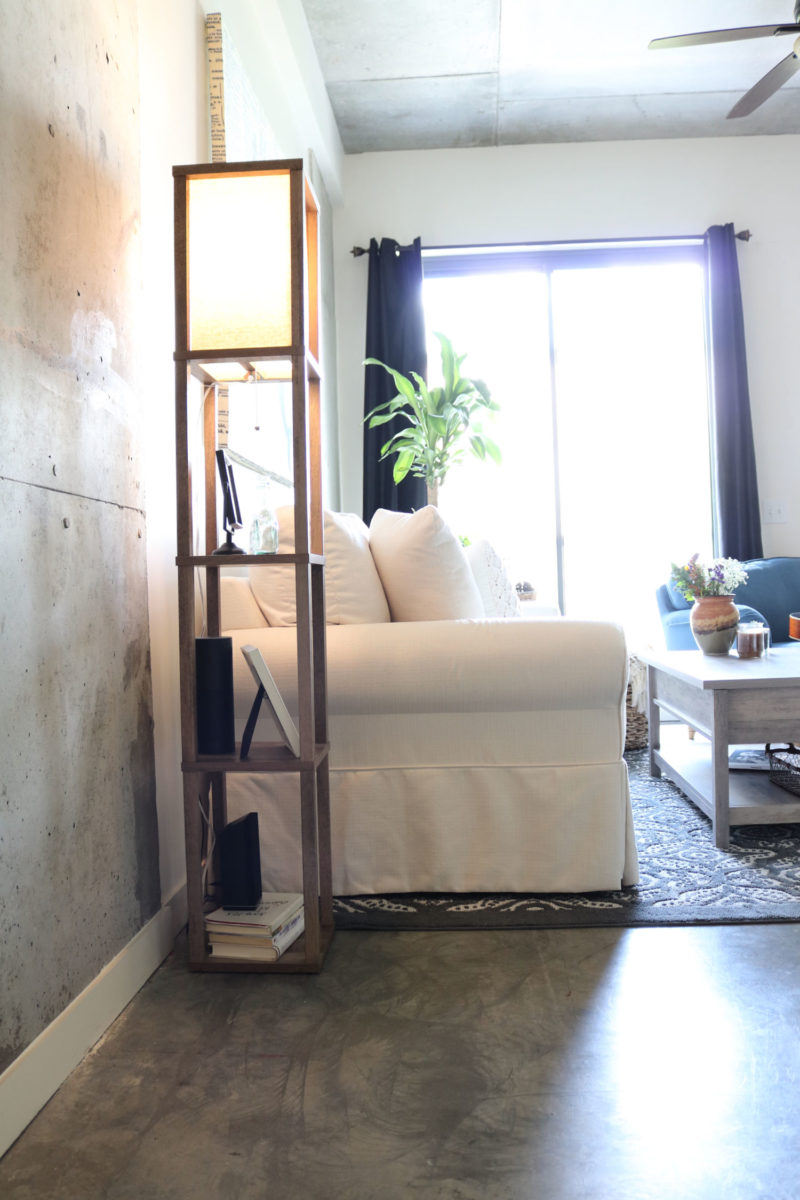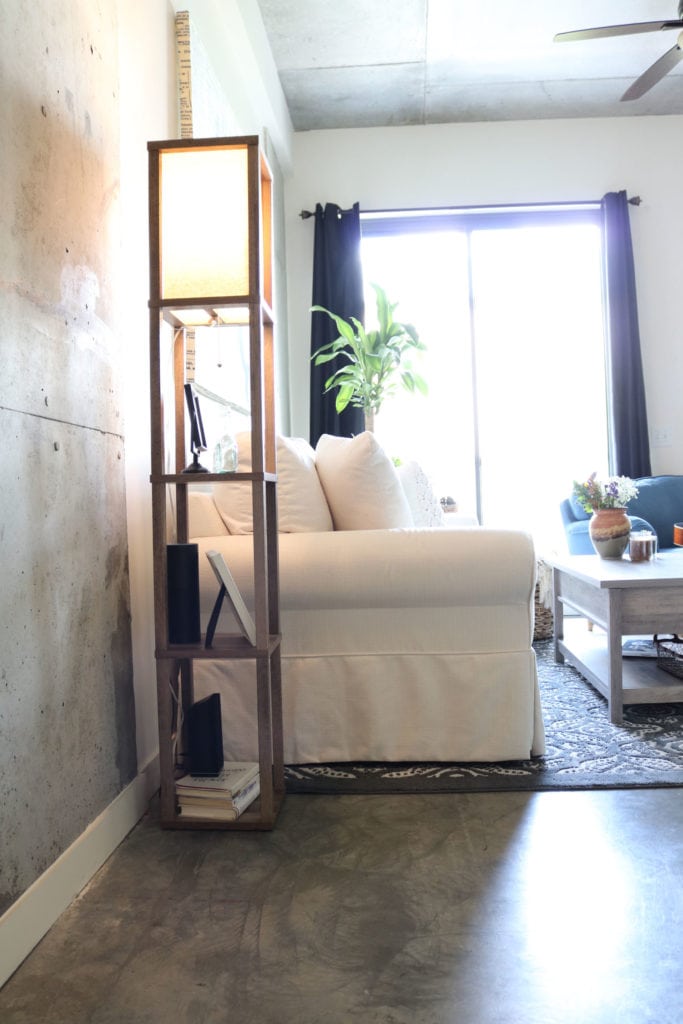 Over the last year, they moved around a lot and had most of their stuff in storage. Living basically out of their suitcases. It was fun and adventurous and it got them to thinking about their lifestyle and where they really wanted to live. That's how they decided on the laid back, walkable community of Decatur Ga. They got busy giving away all the things that they didn't need, things that would not fit in their new minimal apartment and that's where I come in, helping them figure out affordable options for warming up their space filled with concrete and new adventures.
ITEMS NEEDED FOR FINISHING TOUCHES
I sent them a photo of a few rug options from the Better Homes & Gardens line and they chose the one they wanted. I went online and had it shipped directly to their apartment. Along with the rug, I found the perfect floor lamp, coffee table, a few things for the bathroom and ordered those also. The shipping was great, we live about 5 hours away, all I had to do was show up and get busy.
(They picked the rug on the top right and the bottom right photo is the living room before, the just moved in look.)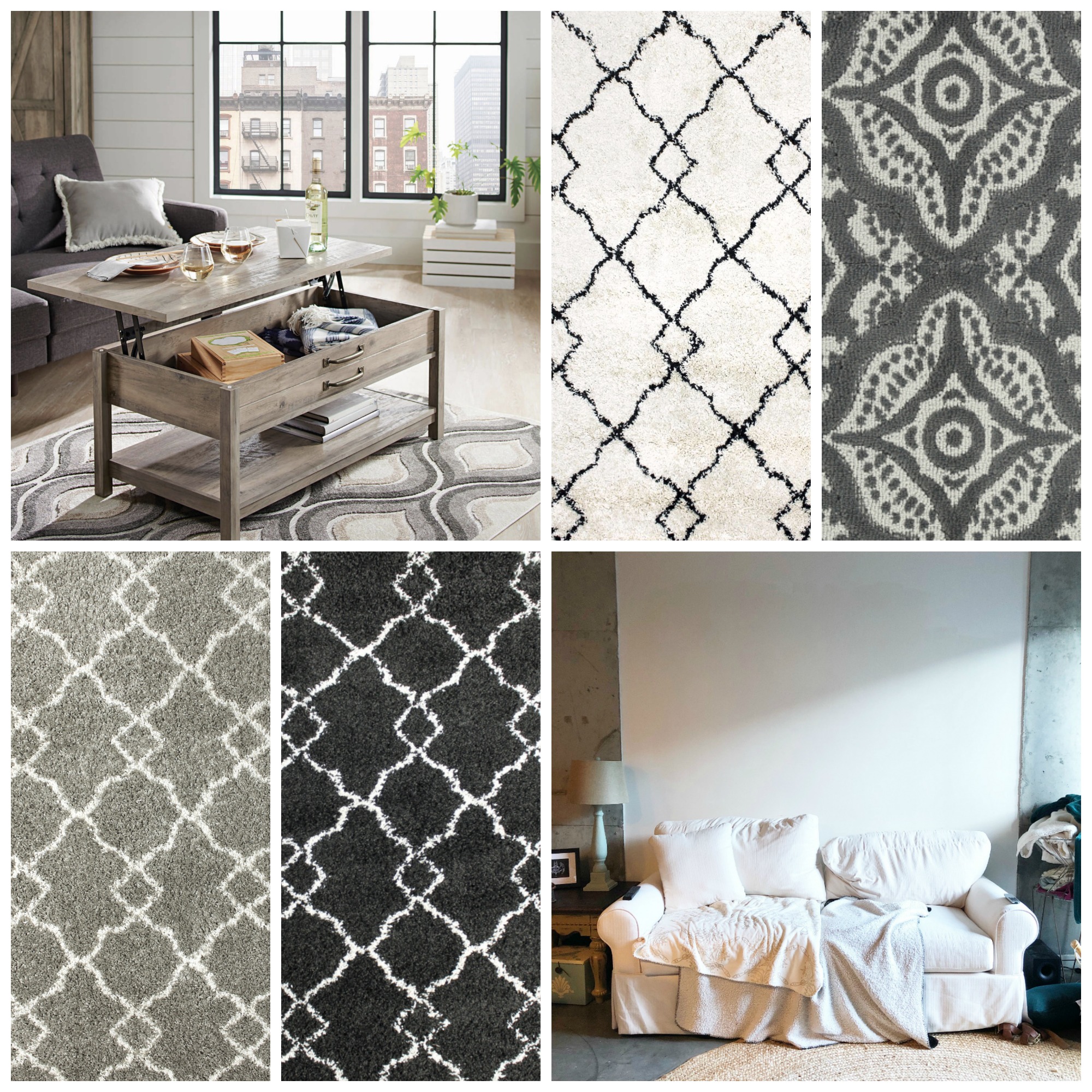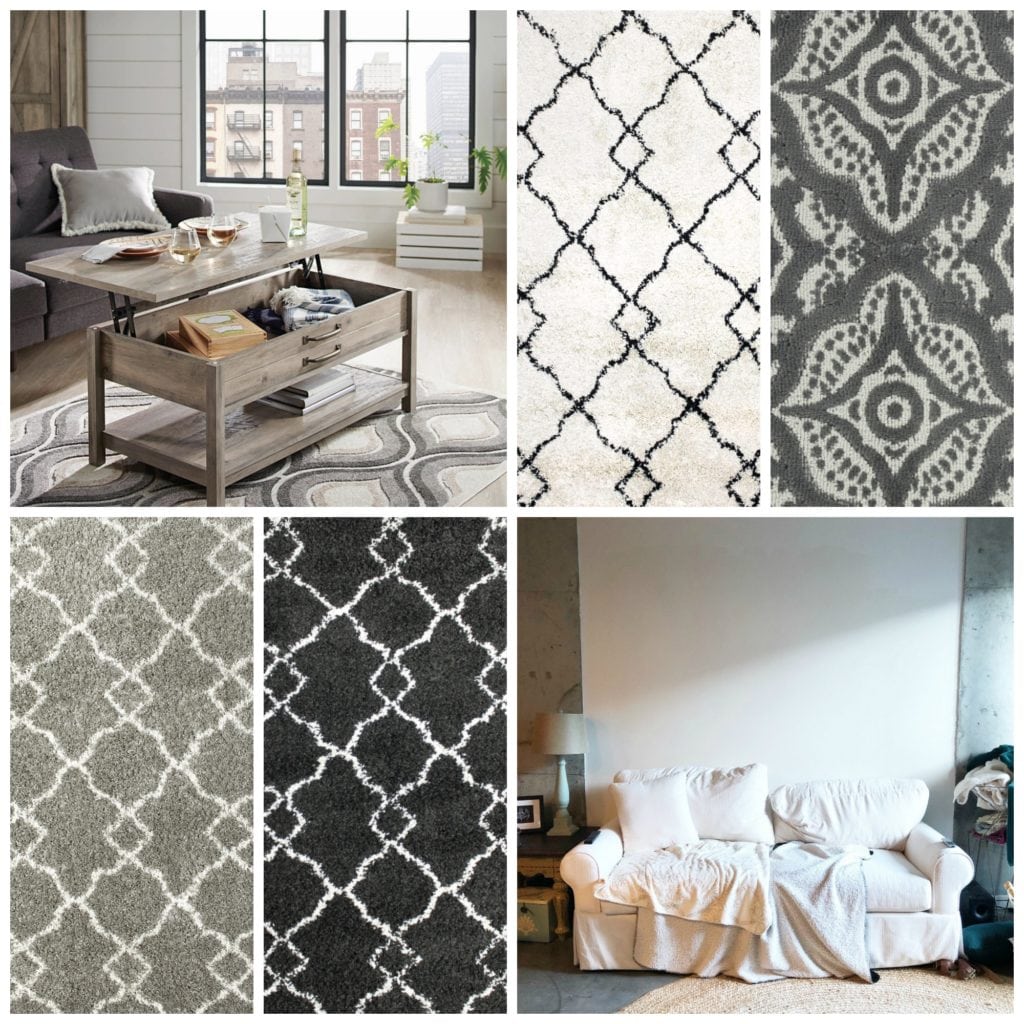 SHOP THE RUGS:


Here's the finishing touches mood board that I created, so they would have an idea of the finished look: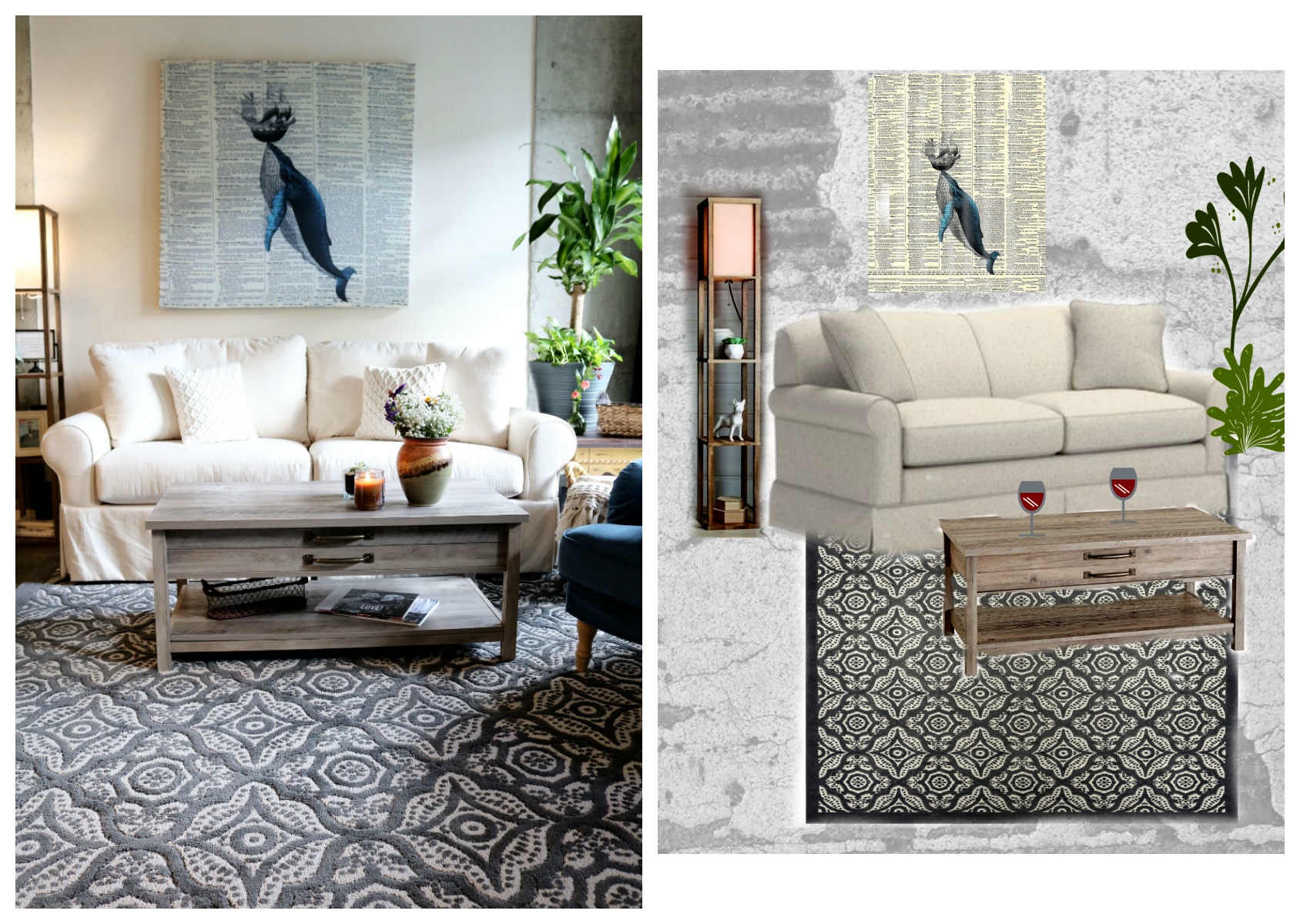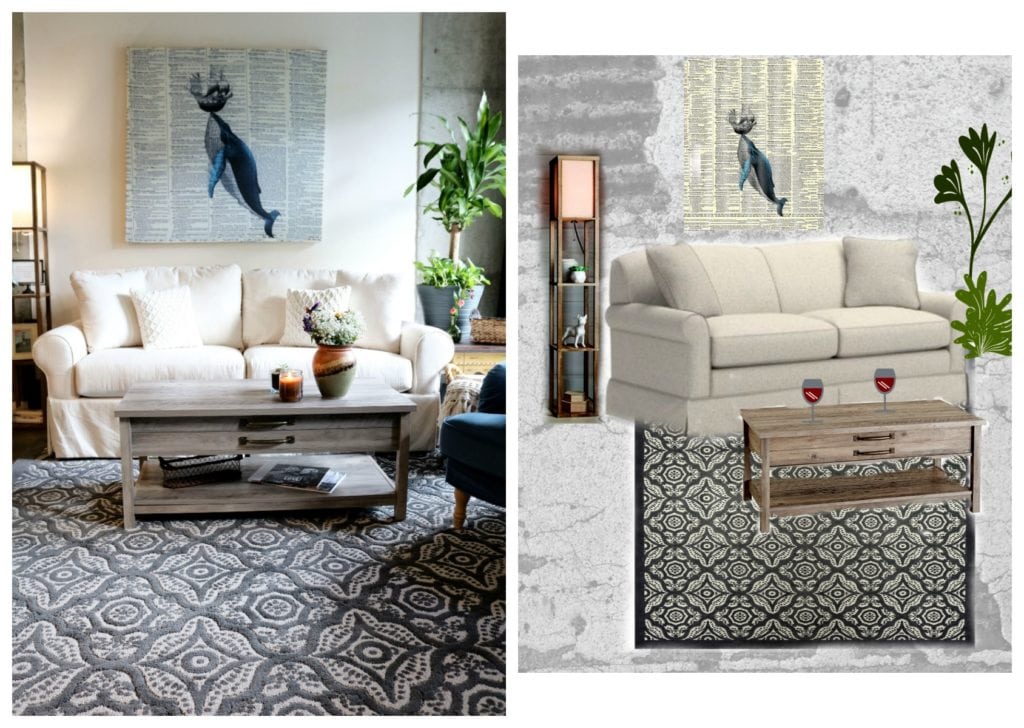 The art was a DIY project, less than $20 and I used accessories that they already owned to keep this makeover under budget.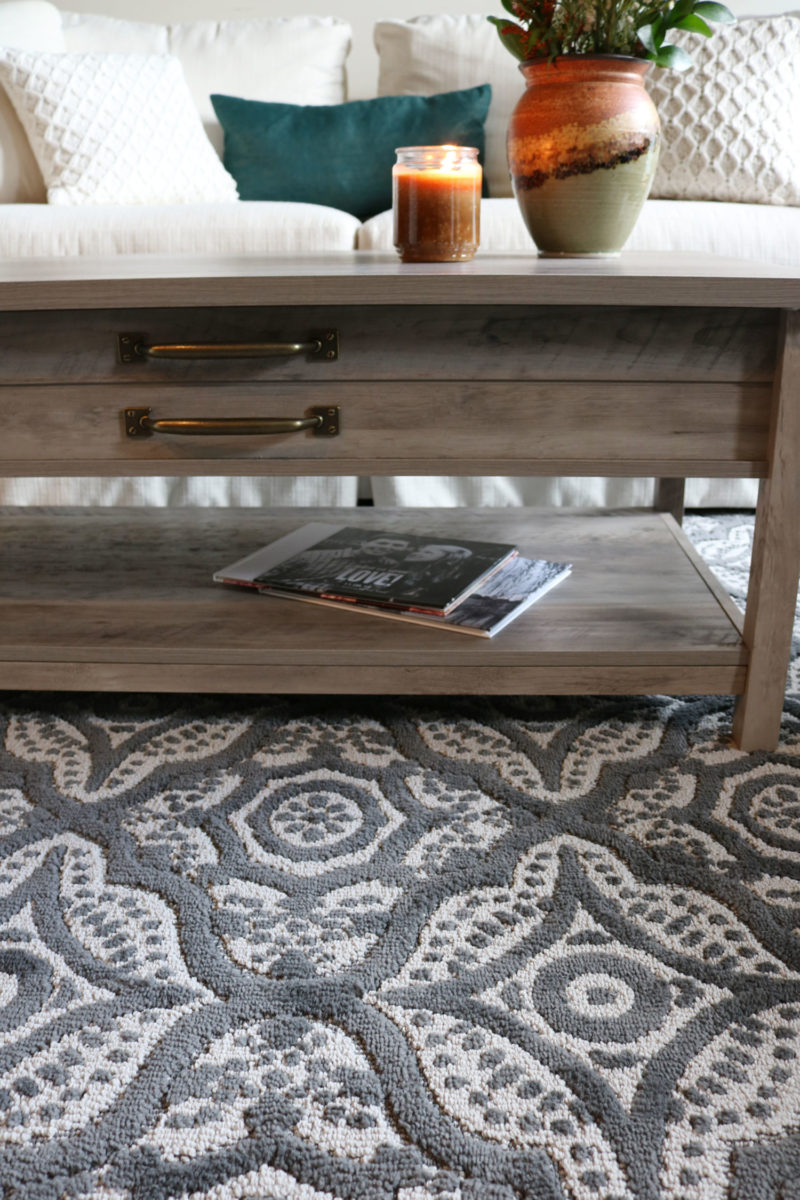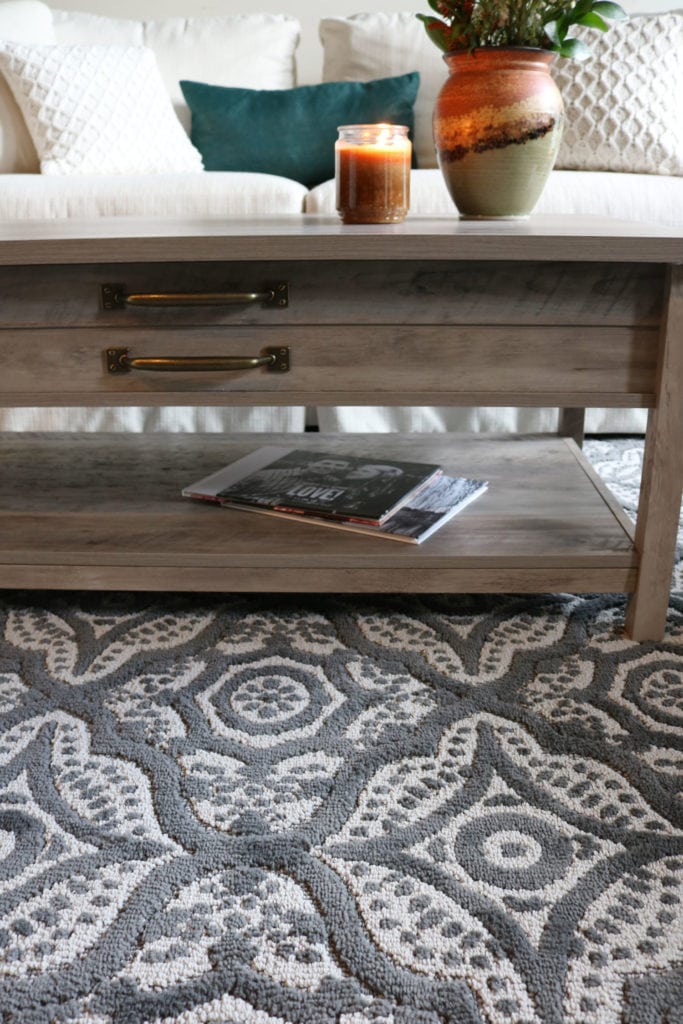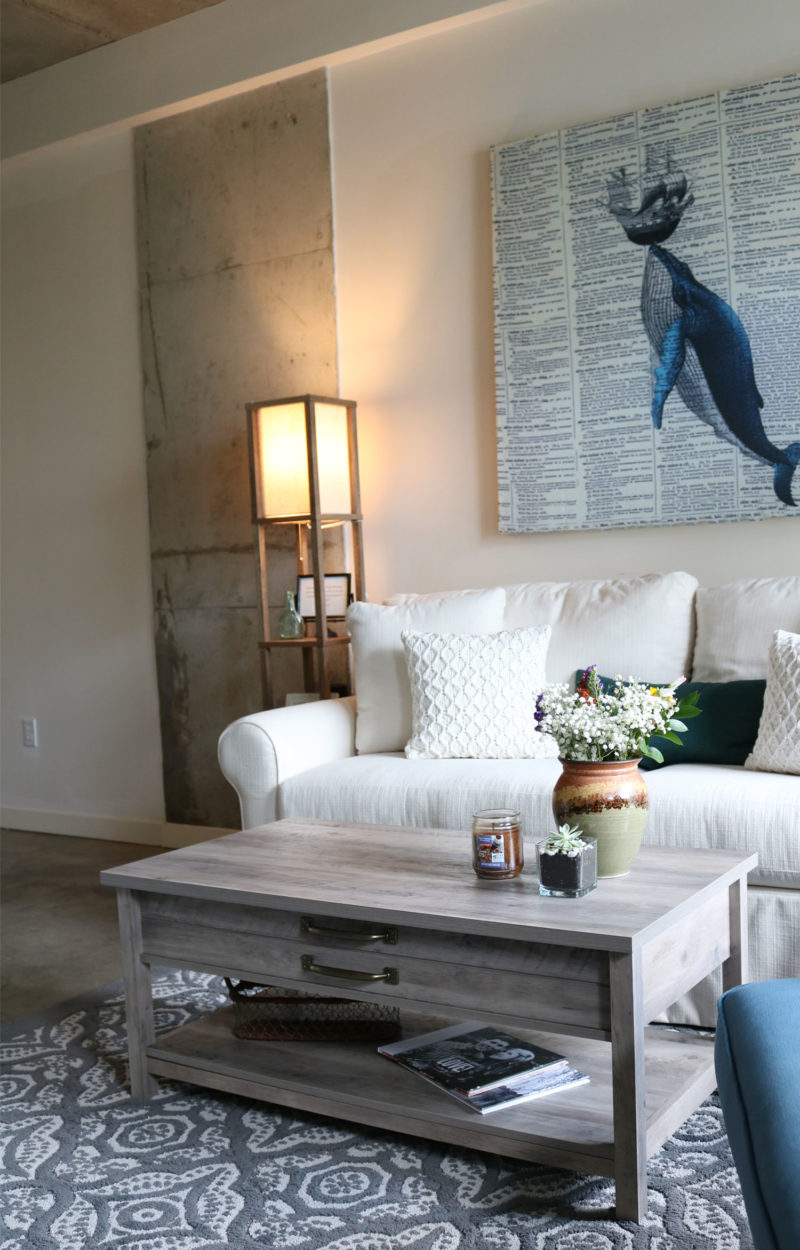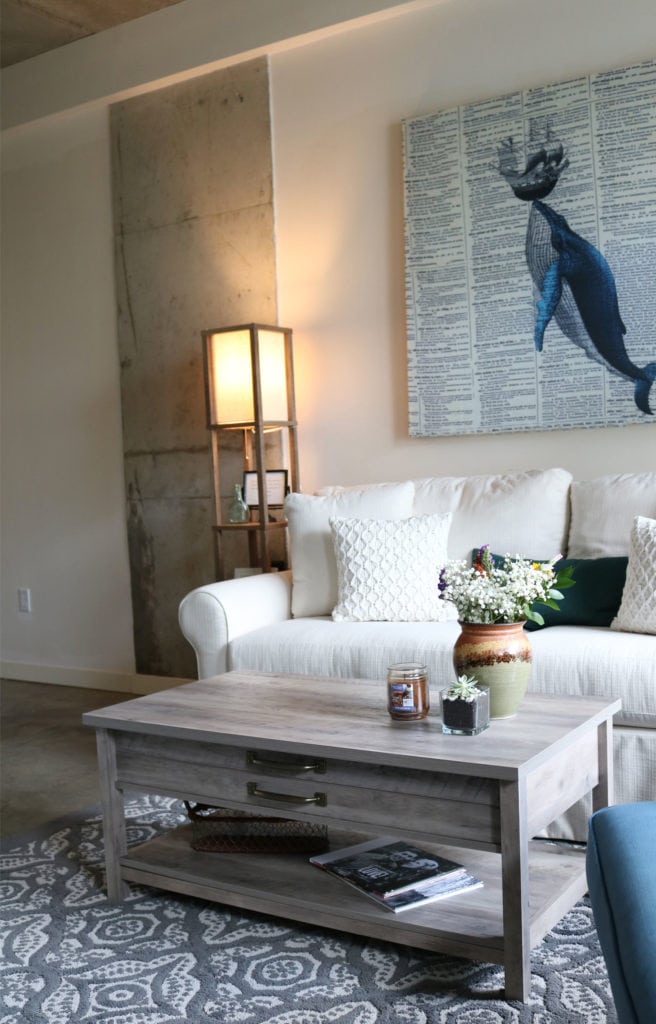 SHOP THE LIVING ROOM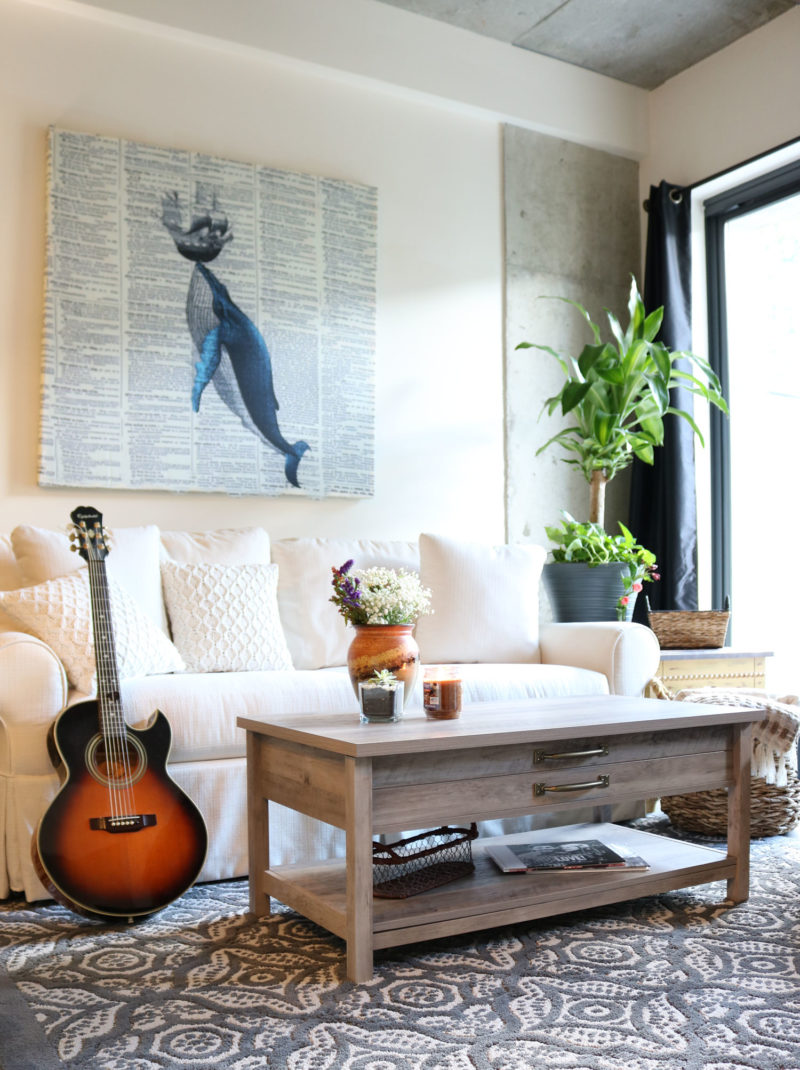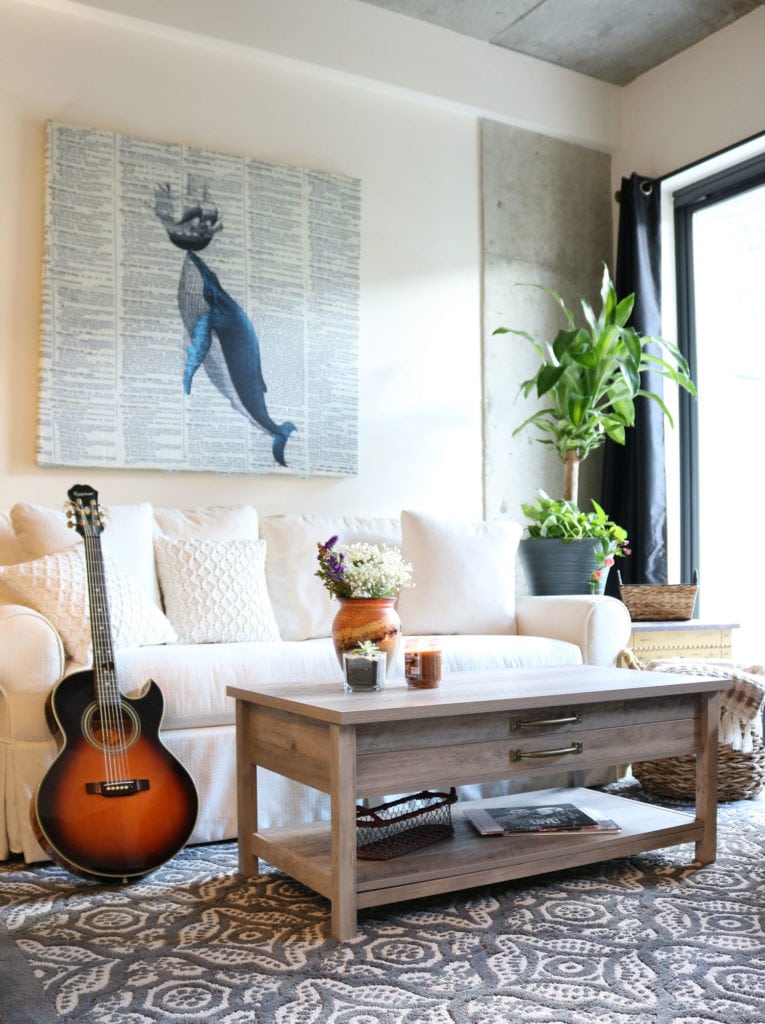 The lift coffee table is perfect for working on the computer or dining for two. Plus there is hidden storage under the top and you can never have too much storage. The gray wood tone adds a warm rustic look in this space filled with concrete floors and ceiling, creating a comfortable and relaxing space.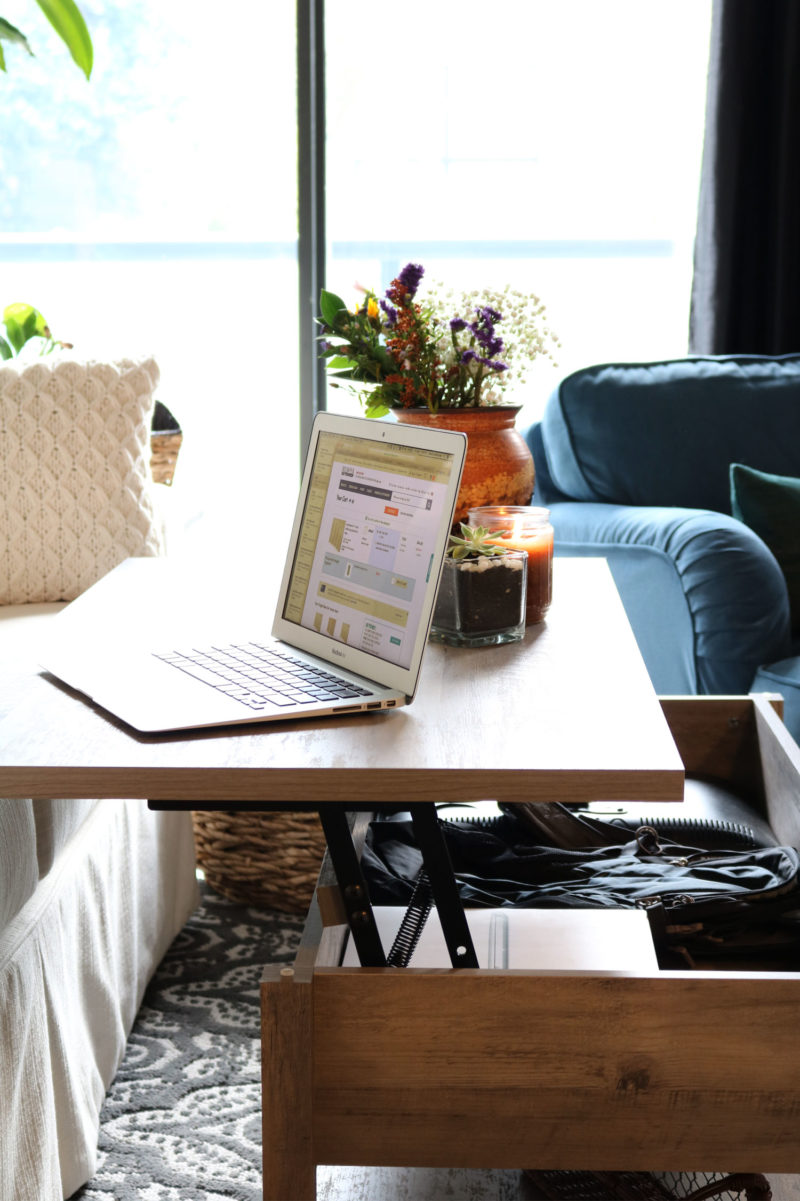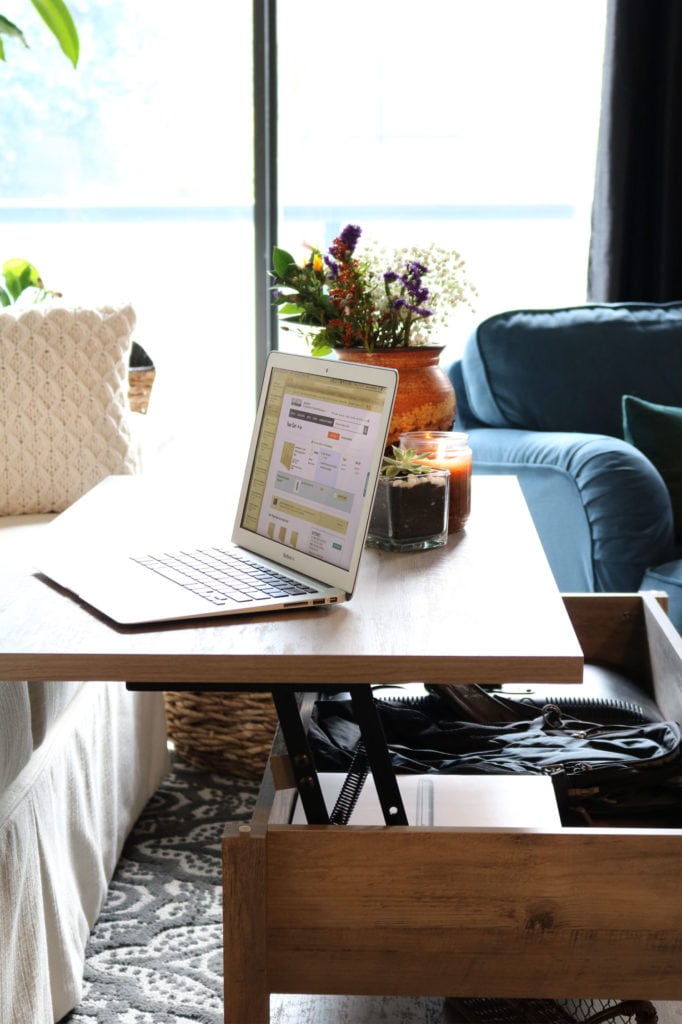 The floor lamp provides light and shelf space to display an array of decor pieces. The contemporary style mixes well with their eclectic look, warming up the space with the wood tones.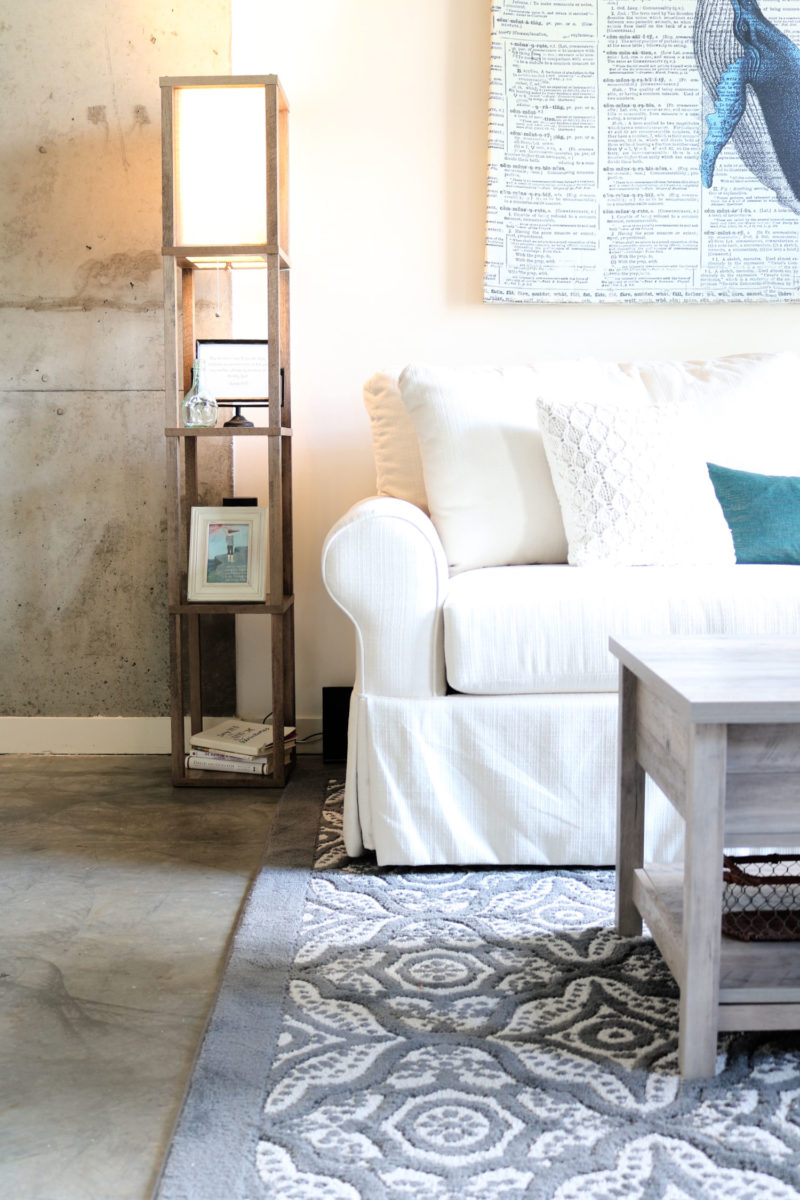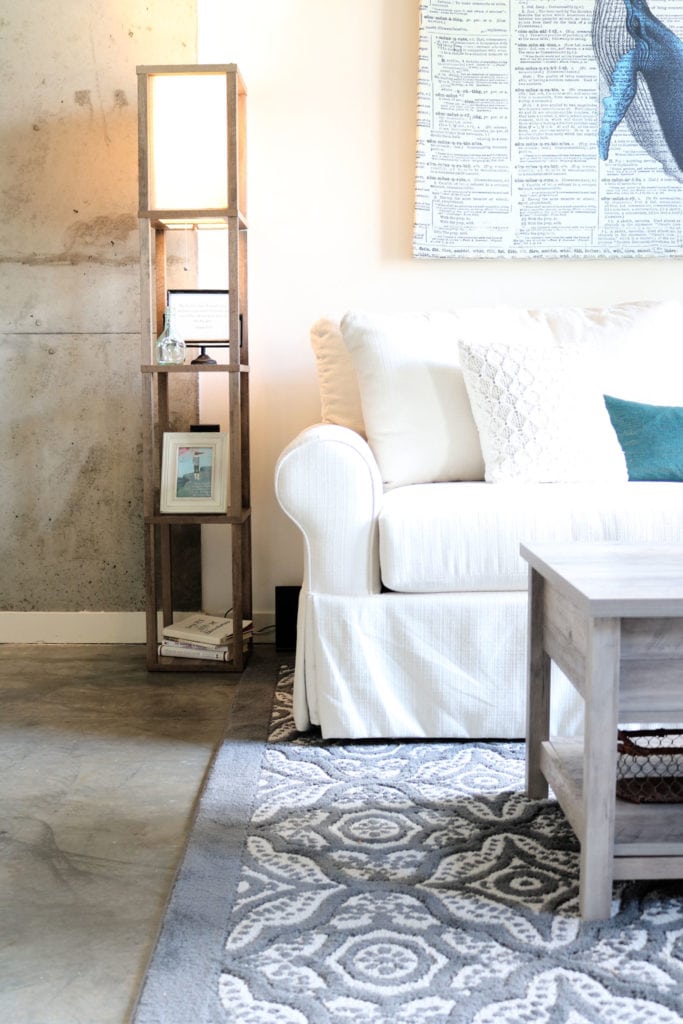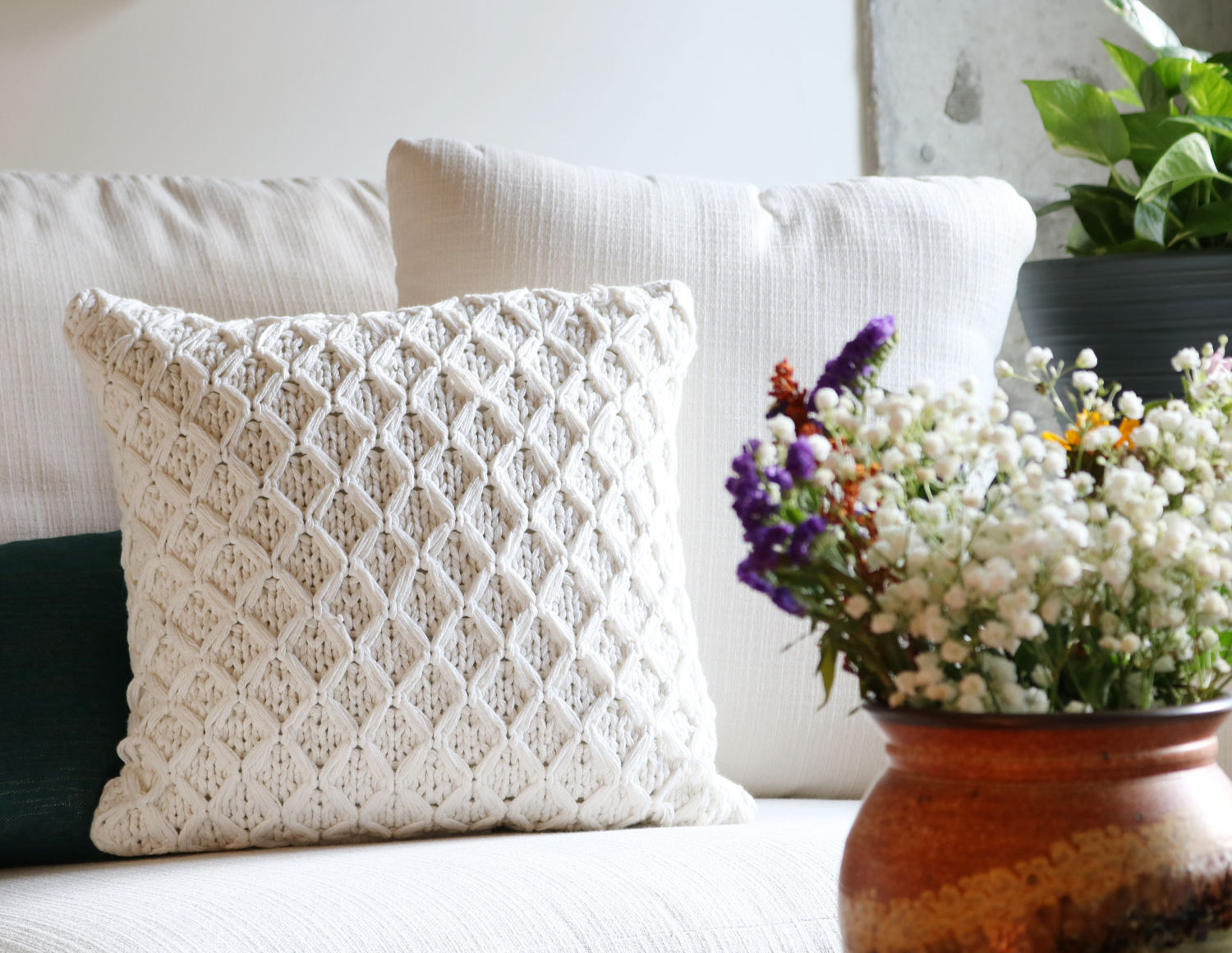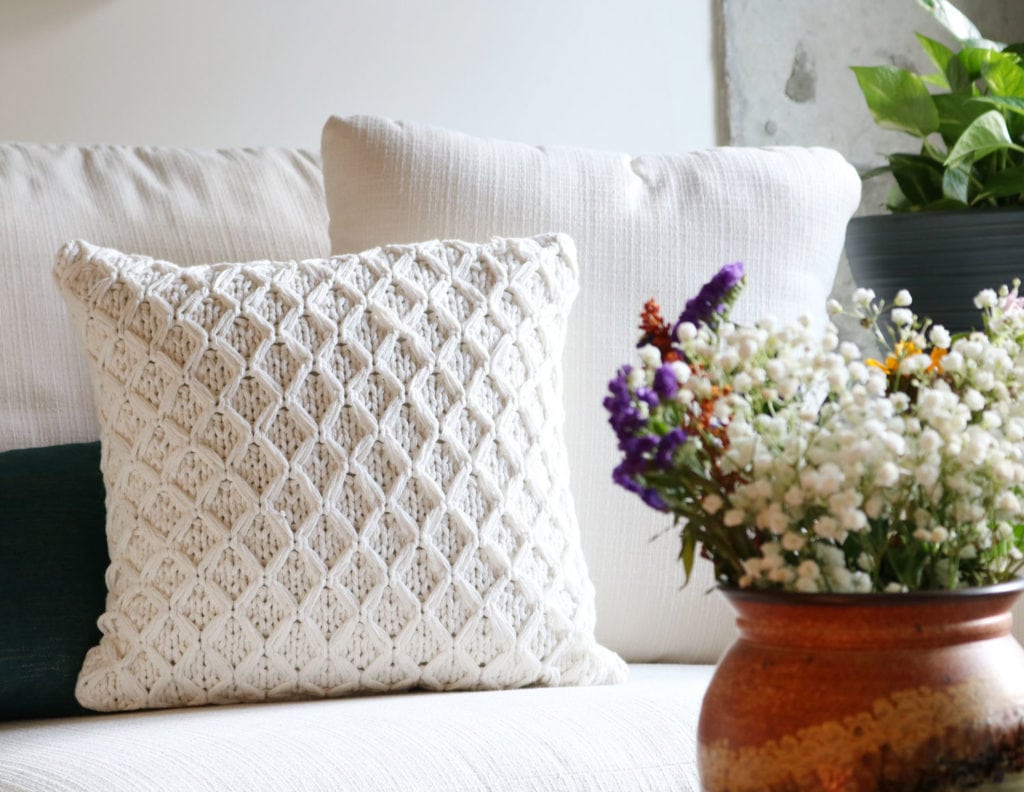 Can I just say that these pillows are as cozy as your favorite sweater? They are! The color matches the sofa perfectly and the sofa almost becomes one with the wall, creating the illusion of more space. A match made in heaven.
Moving on to the Bathroom Finishing Touches
They have one bath and it needs to provide basic necessities and look pretty for guest. To pamper homeowners and guests, I made a simple DIY bath shelf, every tub needs to say sit back and relax. The Better Homes & Gardens aromatherapy candles are perfect for setting a spa like mood and bud vase just says you deserve a beautiful bath.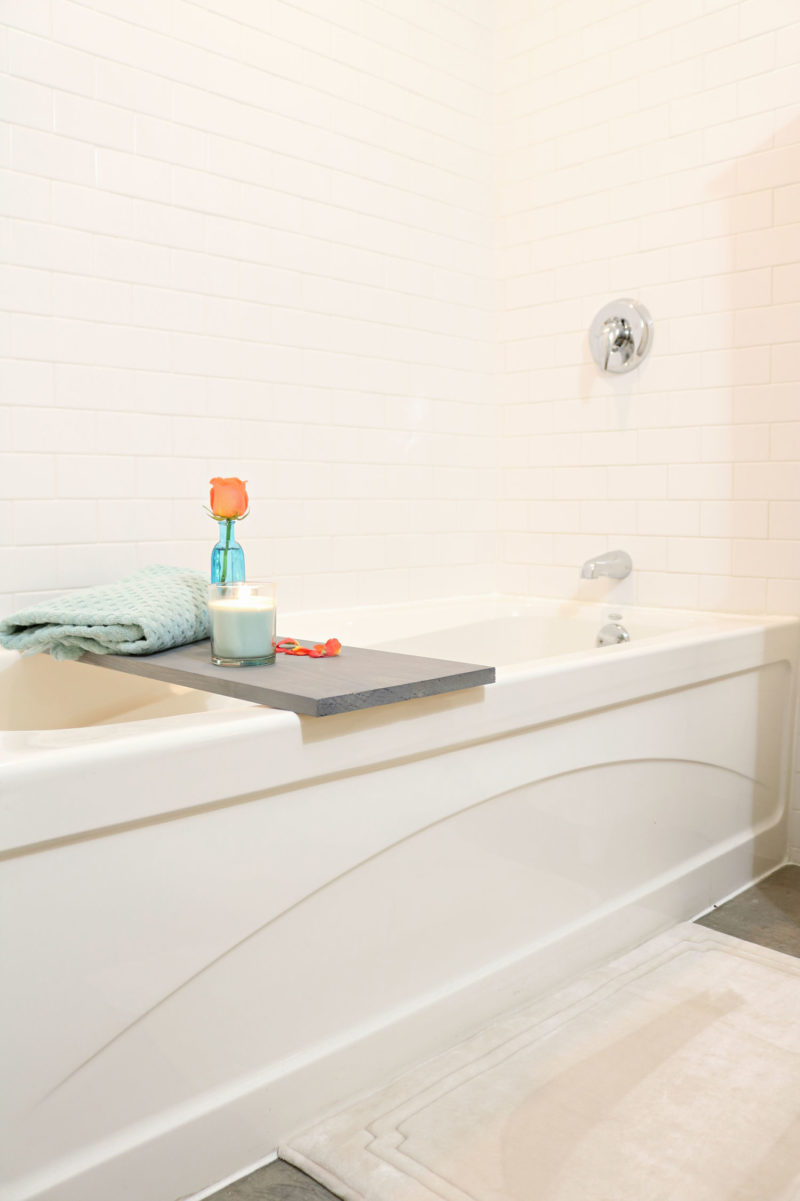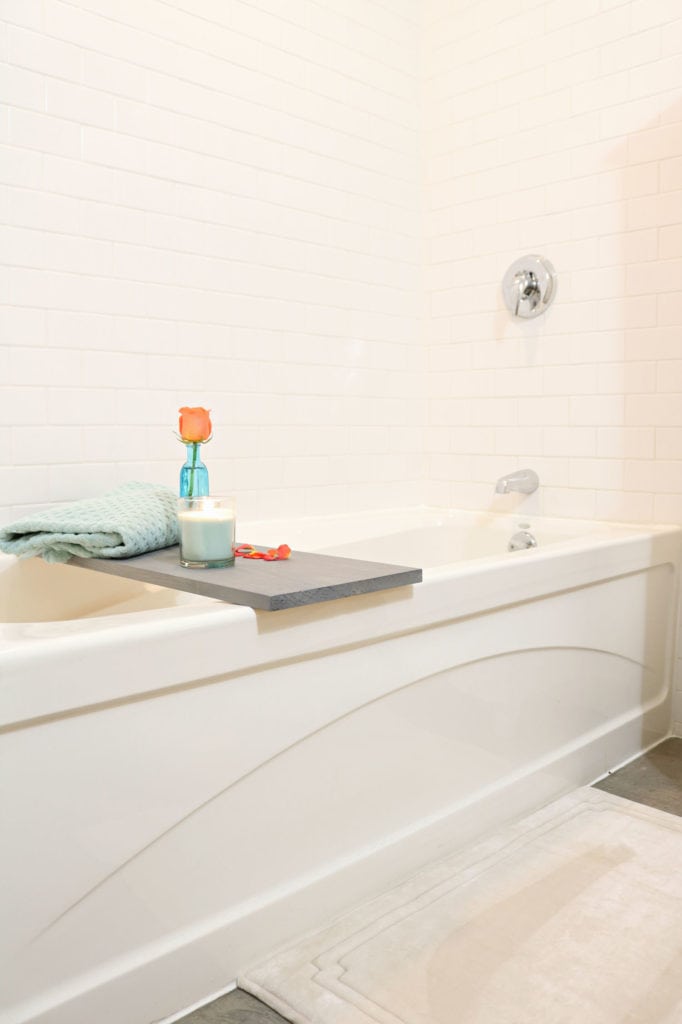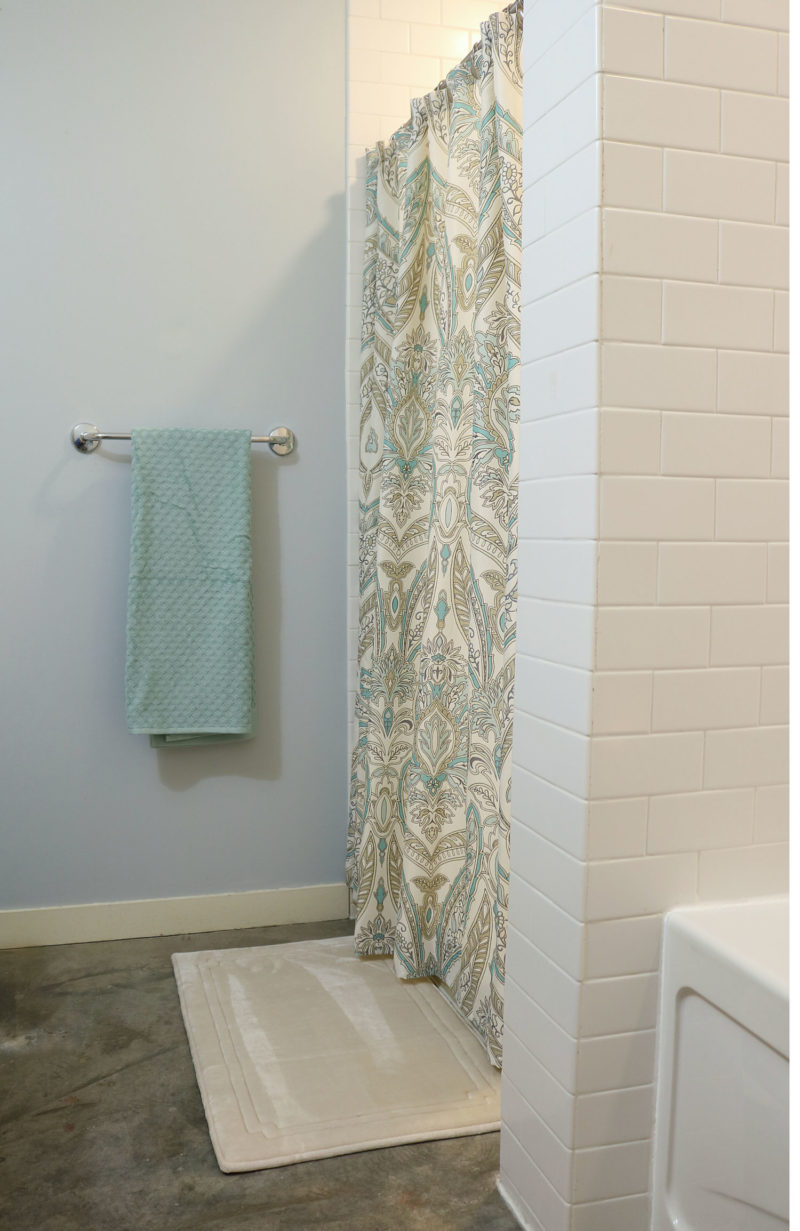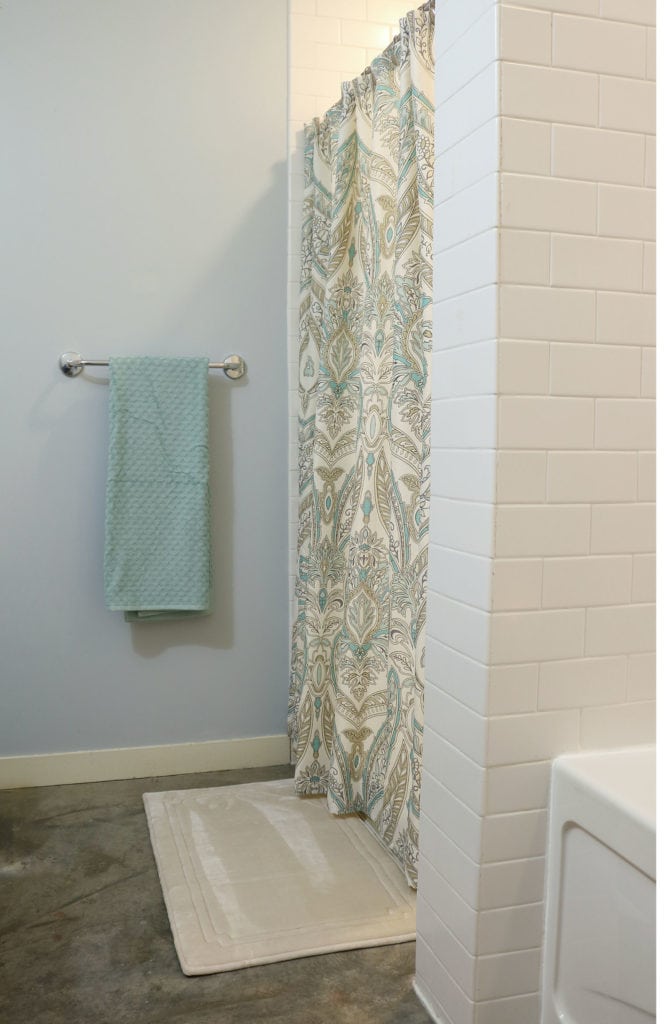 SHOP THE BATH ROOM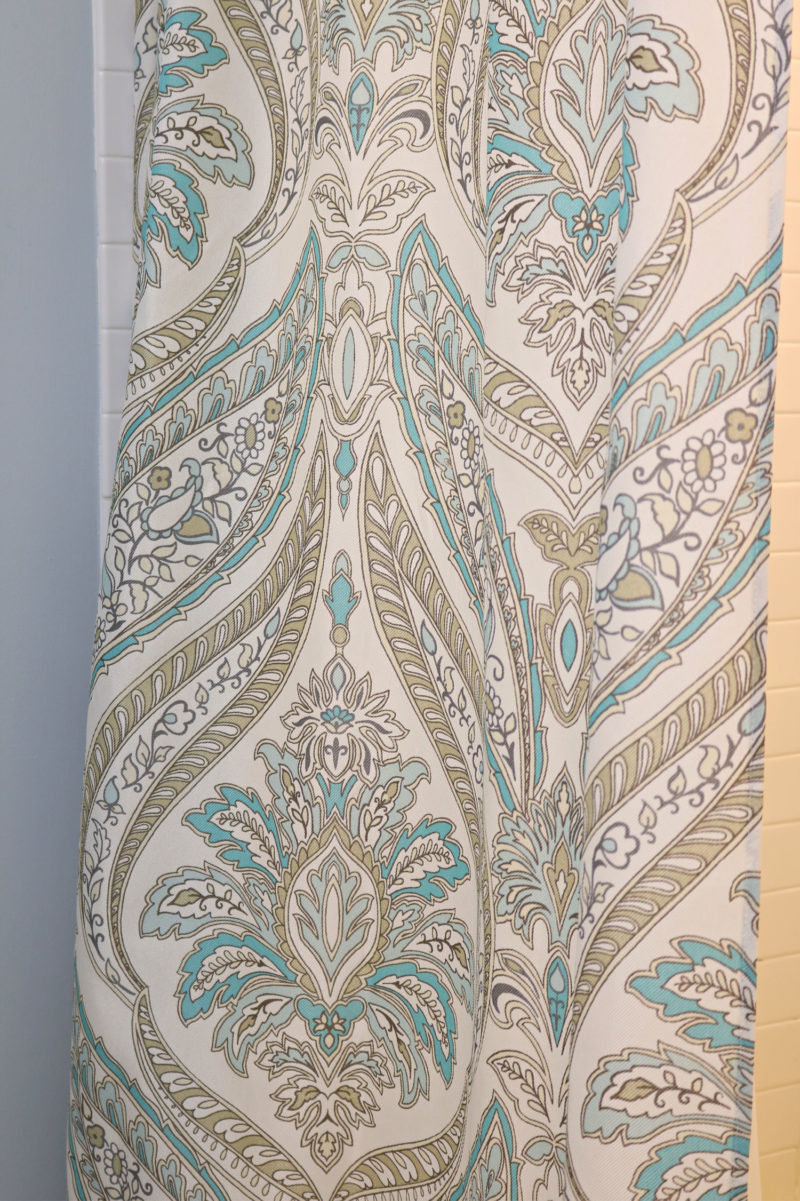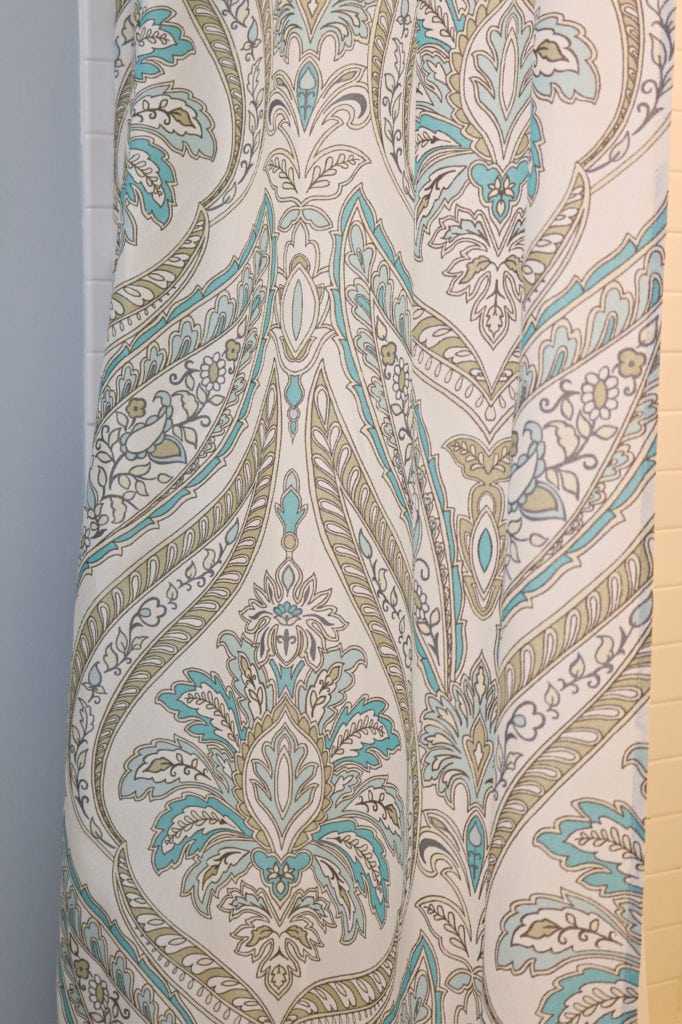 This room also sports concrete floors and ceiling, the colors of the paisley shower curtain soften the look. The texture of the bath sheets and cushy rug add a luxurious feel and Better Homes & Gardens at Walmart keeps it affordable.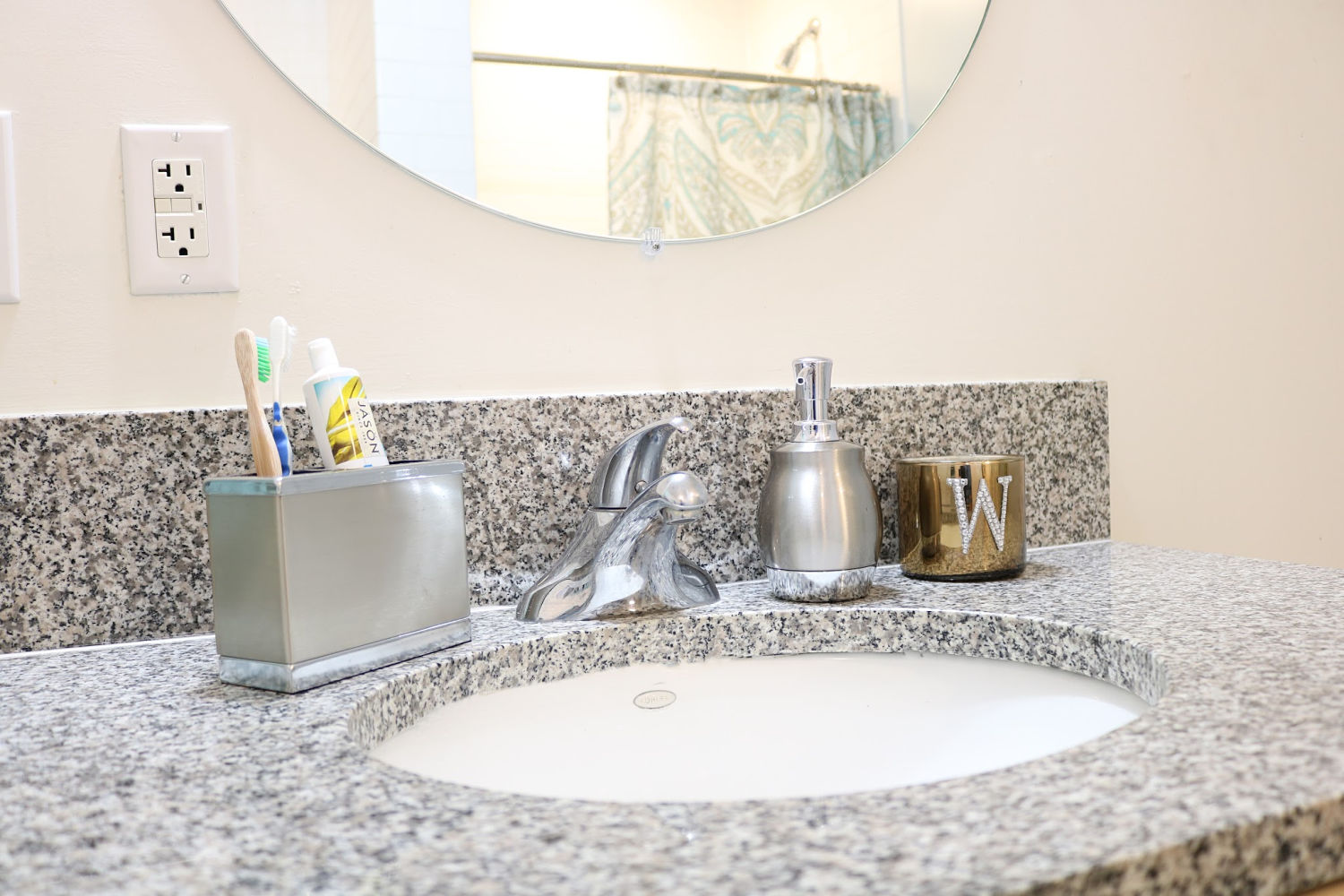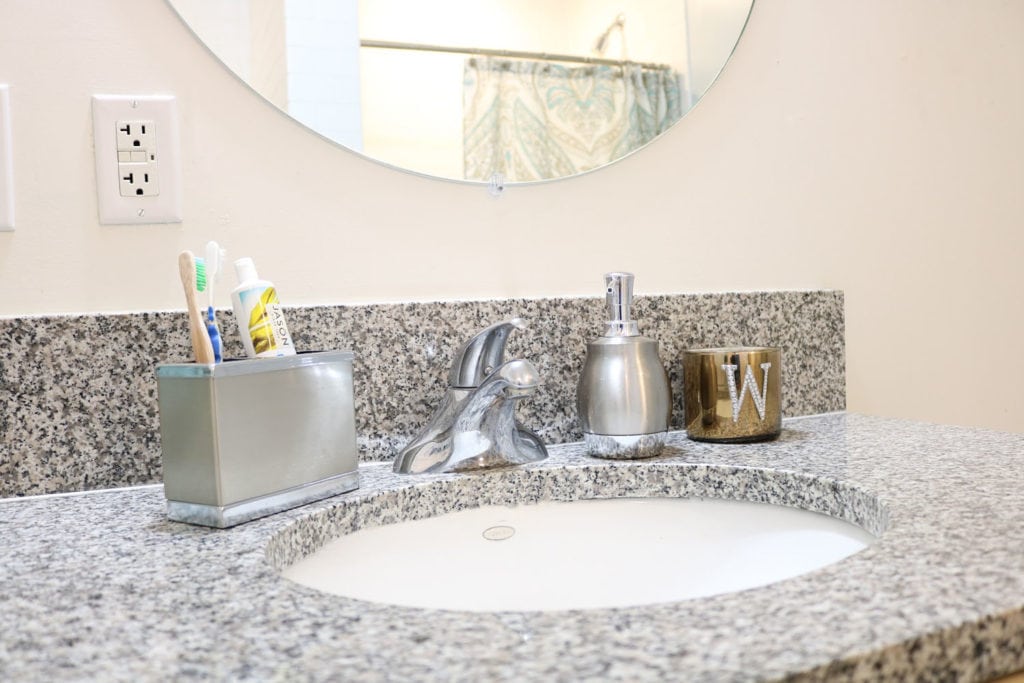 New sink accessories and a minimal amount of items on the counter makes it easy to keep the bathroom looking fresh.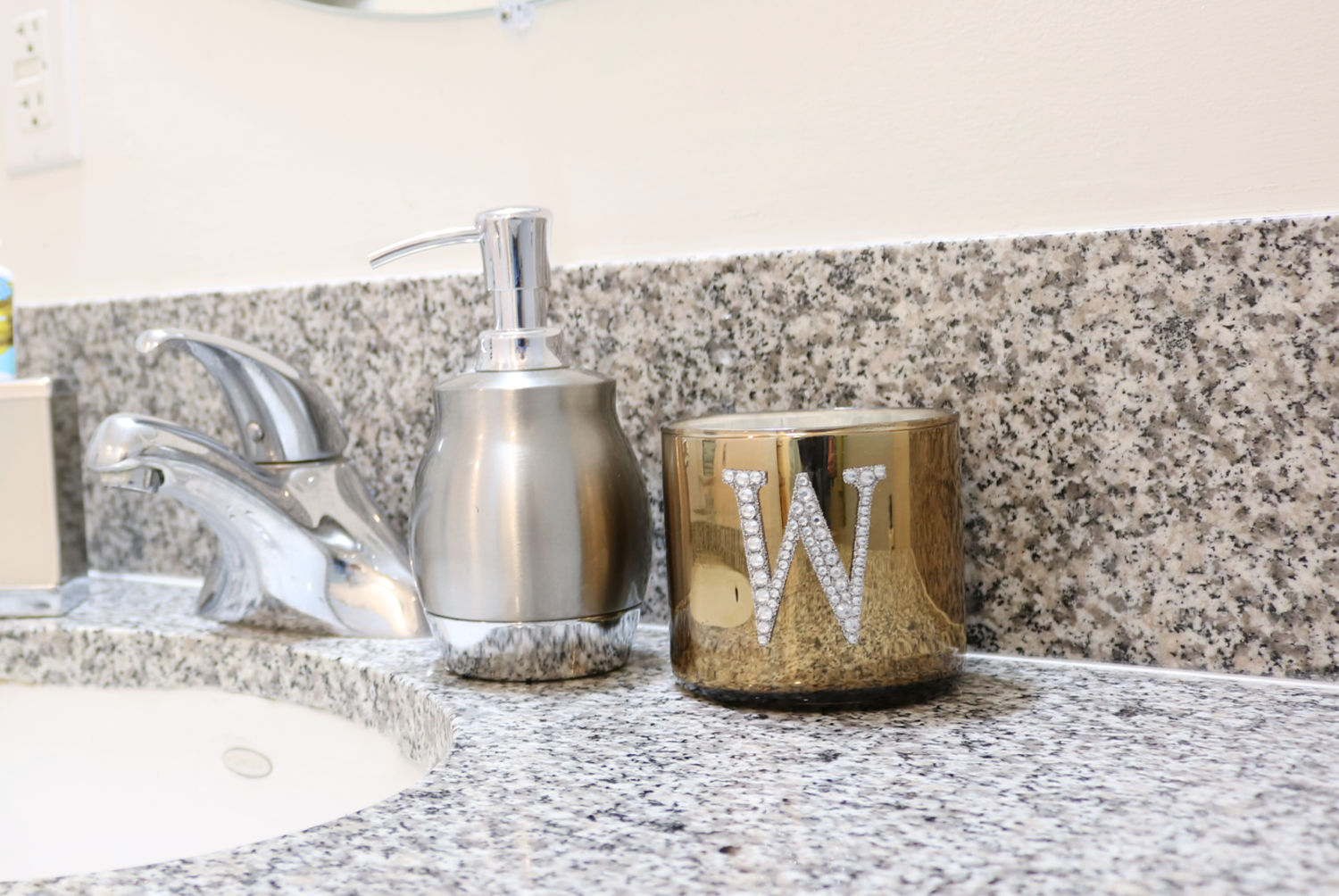 Last year for Christmas, I added a little bling to some of the Better Homes & Gardens candles, gave them for gifts. Jessica placed hers right here.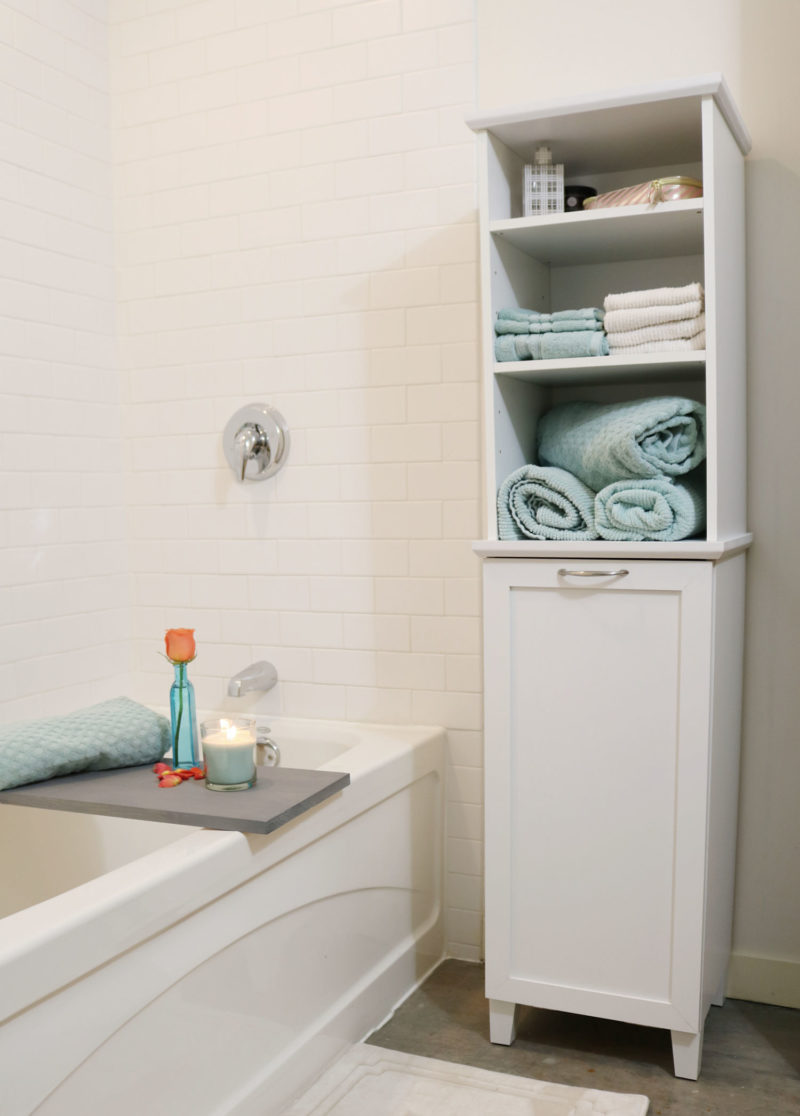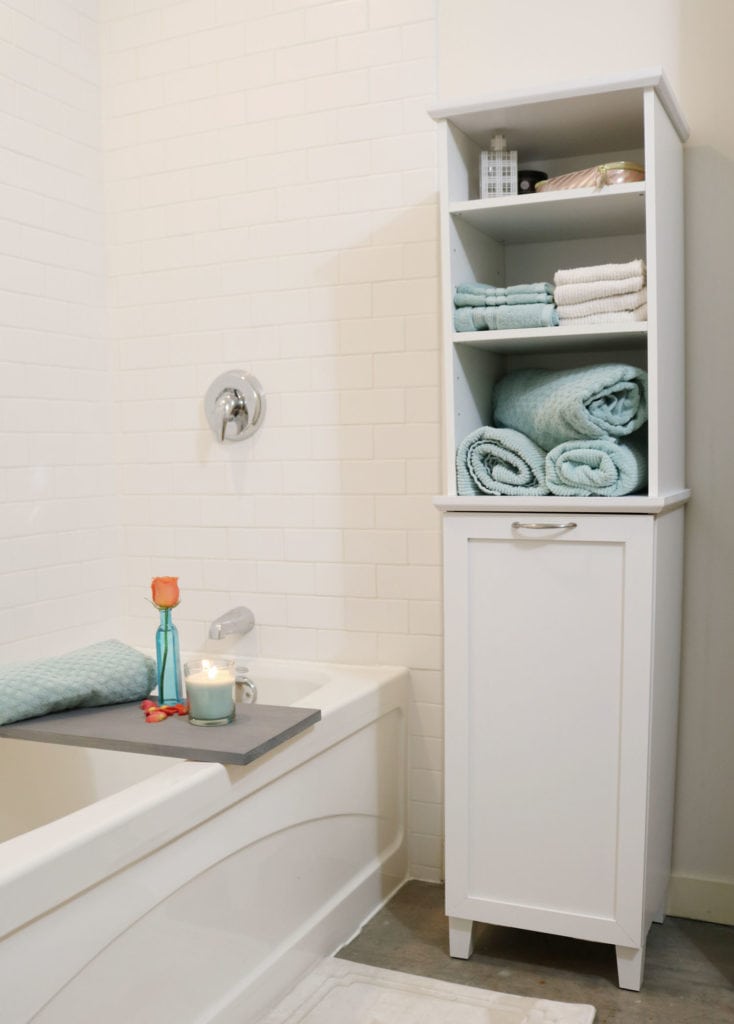 Tall storage with a built in hamper keeps things looking organized and tidy, no dirty laundry in site!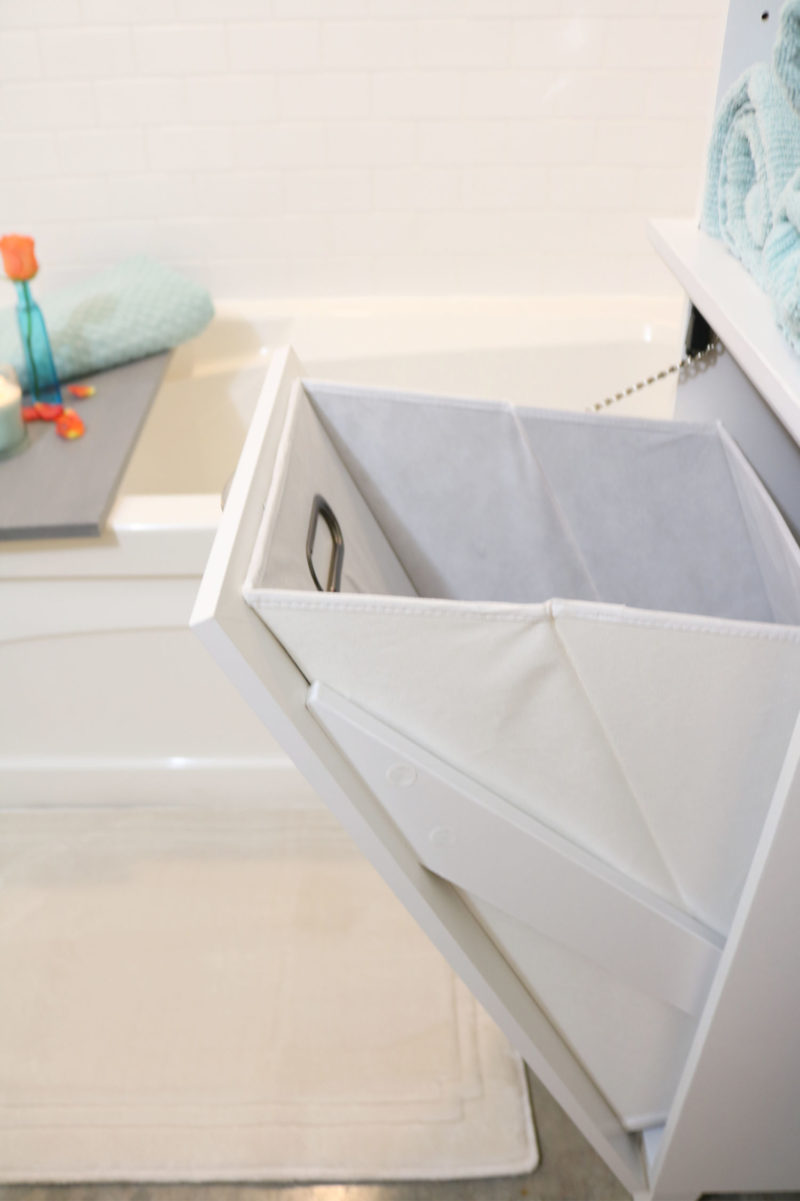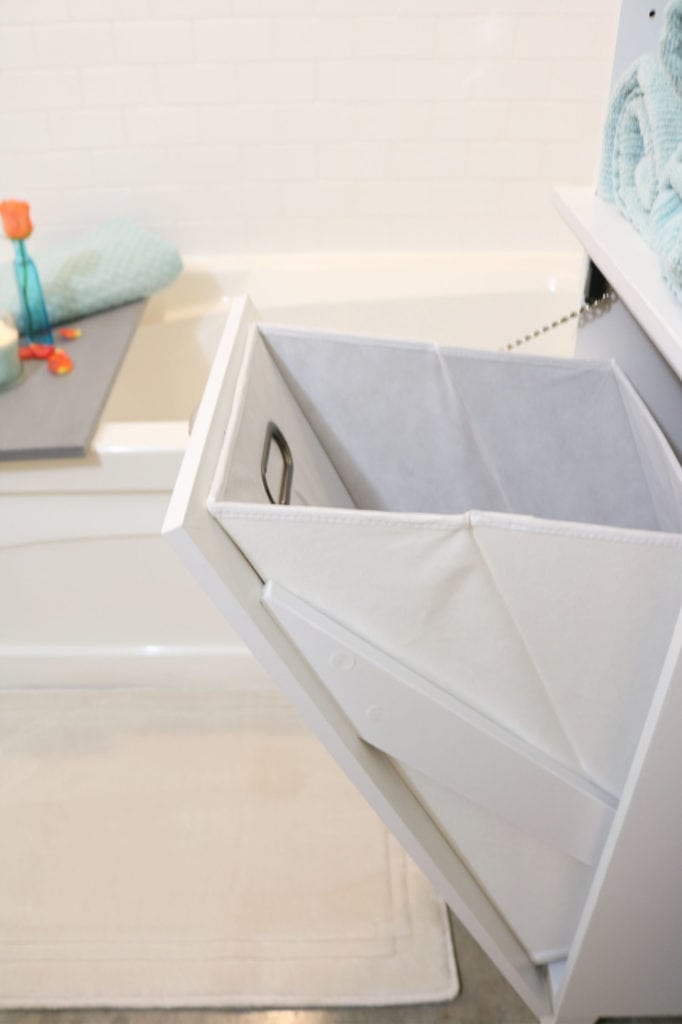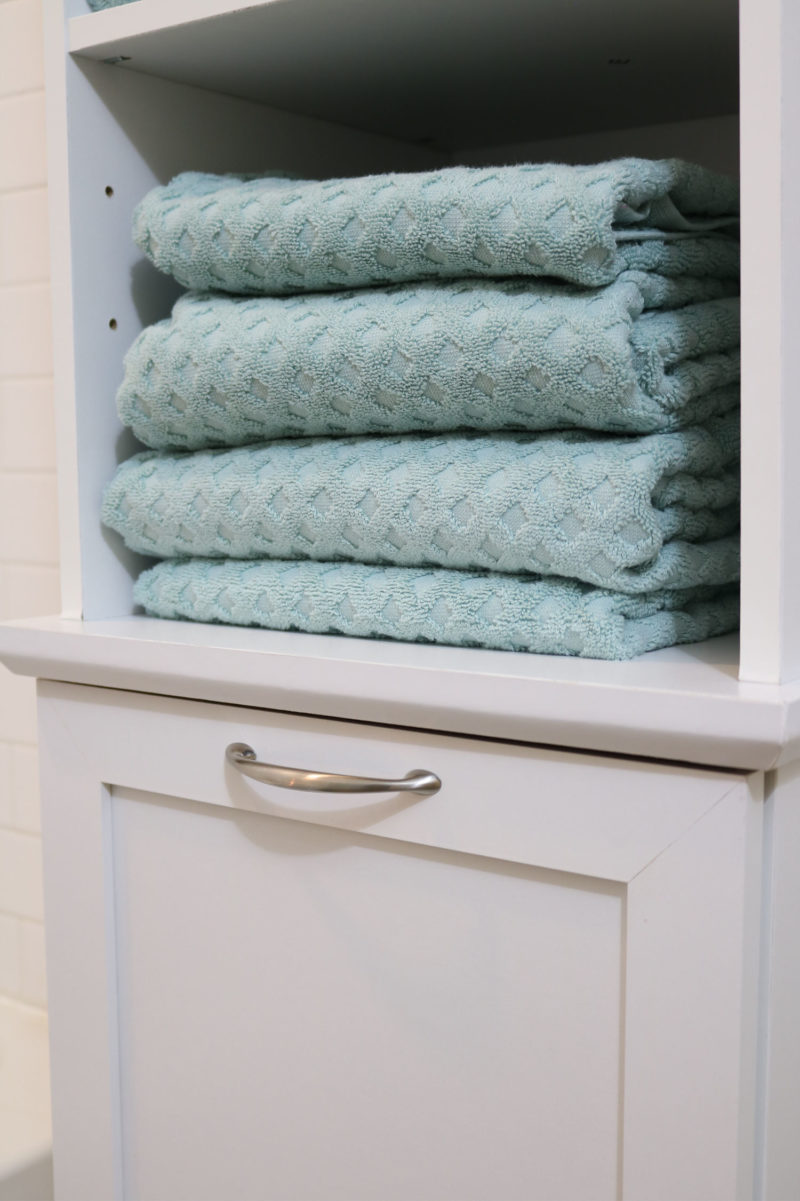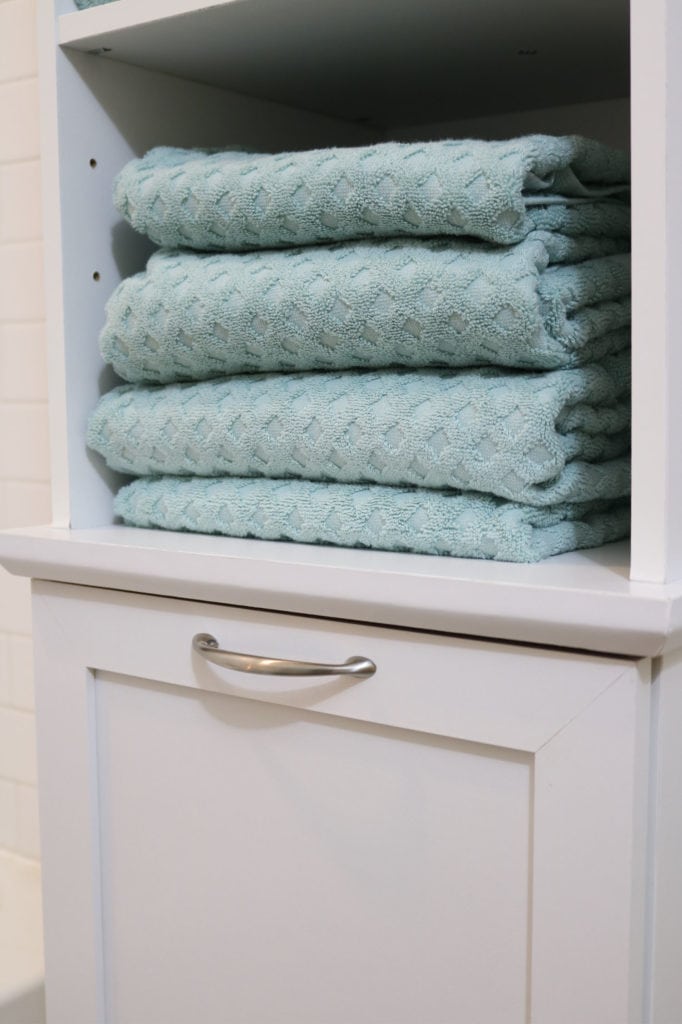 I had a great time adding the finishing touches to Justin and Jessica's apartment. You can have a relaxing home where everyday feels easy like Sunday morning by adding a few cozy and functional pieces of furniture and decor.
SHOP THE POST
Better Homes & Gardens Blooming Quatrefoil Area Rug 8'x10′
Better Homes & Gardens Crossmill Shelf Floor Lamp with LED Bulb Included
Better Homes & Gardens Modern Farmhouse Lift-Top Coffee Table, Rustic Gray Finish
Better Homes & Gardens Storage
Better Homes & Gardens Bath Accessories
Better Homes & Gardens Aromatherapy Candles
Better Homes & Gardens B Hygro Bath Rug – In store only
NEED MORE, SEE THESE DECORATING IDEAS
Keep up with all the beautiful Better Homes & Gardens at Walmart choices: Instagram – Twitter – Facebook – Pinterest – Website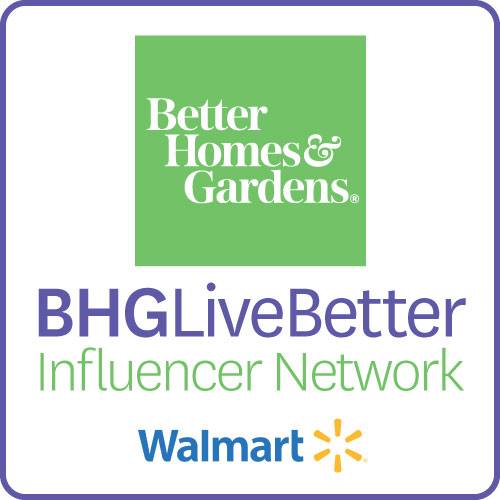 I can't wait to go visit again.